From an outside perspective, it seems like recruiting new staff is a walk in the park for employers. One would think that all you have to do is flip through a couple of CVs, chit-chat with the applicants, and choose a suitable candidate.
But most companies' recruitment process could be daunting and intensive, especially when filling a sensitive position.
Building an effective and result-driven recruitment process is crucial for companies that aim to develop a competent and effective workforce. Organisations need to streamline their recruitment process to attract top talents and become efficient from start to finish to get the best result.
Hiring an outstanding talent takes lots of planning, time, and effort. However, in the end, when done correctly, it's often worth the investment because the organisation gets the right person they need to fill the role. On the other hand, a poorly planned hiring process could result in a high turnover rate, waste of resources, and, ultimately, hiring someone who doesn't meet the requirements.
In the following article, we will explain in-depth the recruitment process steps your company can follow to get their ideal candidate.
What is a recruitment process?
A company's recruitment process is a step-by-step process that the organisation goes through to identify, draw in and engage suitable candidates to fill their vacancy. It starts with identifying a position that needs to be filled. There are many reasons for a new position. To name just a few, it may be due to company expansion, retirement, or promotion of the person who formerly was on that position that could create a need for hiring.
After identifying the vacant position, the other recruitment process stages would include the following:
Creating job requirements
Sourcing candidates through job boards, social media, internal communications, etc.
Screening and shortlisting candidates
Making an offer
Onboarding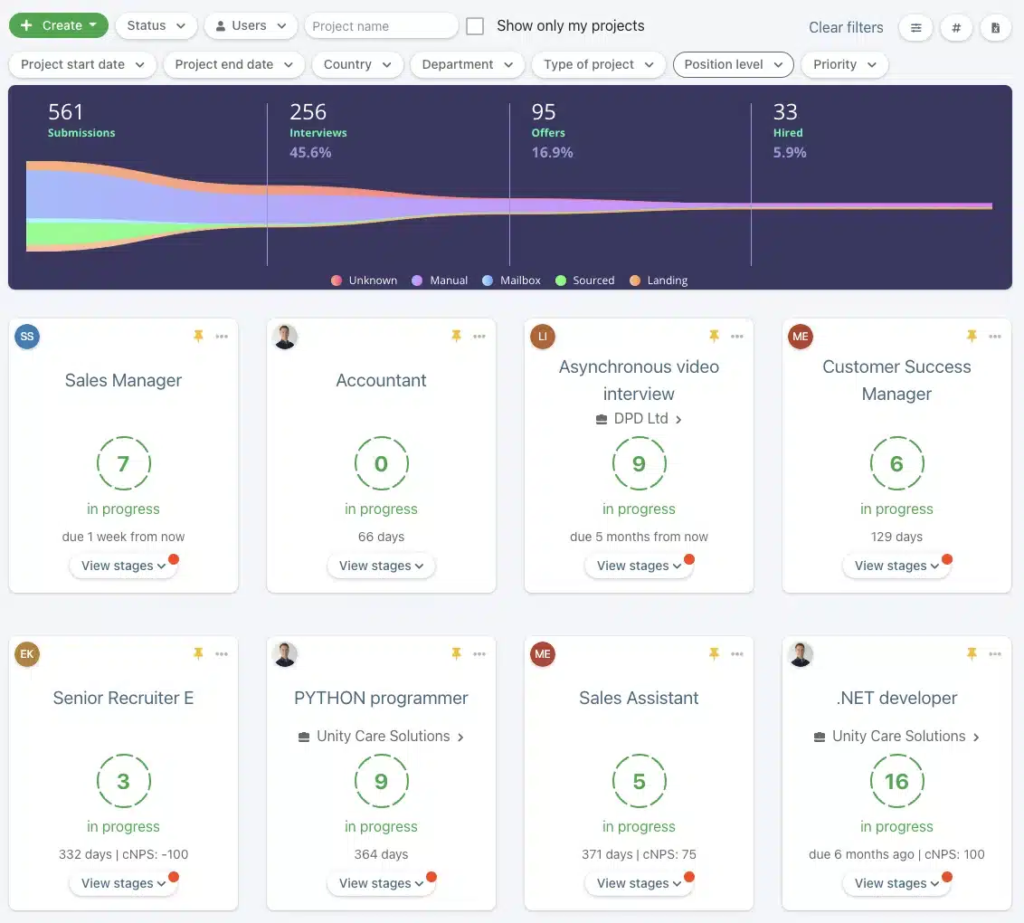 How to build a recruitment process?
Depending on their specific needs, different organisations may have their unique recruitment process.
As an HR manager or recruiter, you must deeply understand your organisation's needs before you can build an efficient recruitment process. You must also have a specific persona of the ideal candidate and a series of clearly-stated recruitment process steps to select that candidate.
Your recruitment process may be completely different for different positions, having a customisable funnel in your ATS makes your life easier and saves you time. For example, for some positions, using asynchronous video interviewing will do the trick, for some you need homework assignments or multiple stages of interviewing.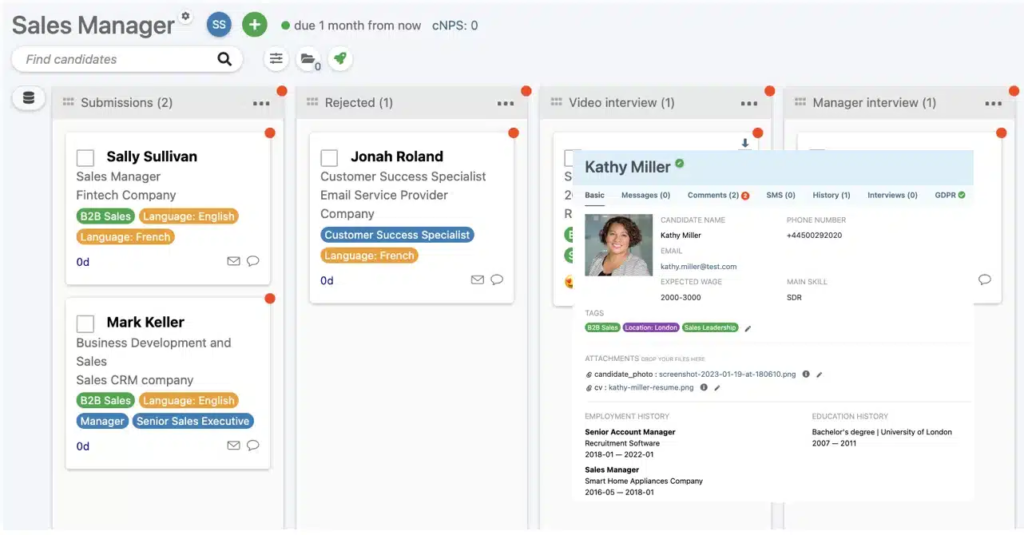 Recruitment process steps
The following are the most appropriate steps every organisation should follow for a seamless recruitment and selection process:
Step 1: Identify the vacancy
The process of employing new staff starts with realising that there's a need to hire. This need arises when someone leaves the company, gets promoted, or when the business expands and needs extra talents to work for them.
Step 2: Analyse the role and create a job description
Your HR team must carefully analyse the job requirements, qualifications, and experiences a person must have to be an ideal candidate. You must also highlight all the responsibilities and formulate a clear job description, including the relevant experience, skills, and academic qualifications the applicants must possess.
You must also determine the candidates' fair salary range and expectations for the role you are hiring for. Your offer needs to be attractive to the best-fit candidates.
Step 3: Create a recruitment plan
Here, your firm decides what strategy is best to fill this position. Do you want to do an internal recruitment where the already existing employees will fill the gap, or would you rather hire new people?
At this essential recruitment stage, your organisation will also decide whether to use job boards, social media recruitment, referral program or send offers to people with a proven track record. You also have to allocate a budget and deadline for this process.
Also, identify which parts of the process can be automated to ease your workload – these include rejection emails and interview scheduling, to name a few.
Step 4: Post job ads to attract qualified candidates
The fourth step involves sending out job advertisements to draw in suitable candidates. The most popular platforms include social media, job boards, and professional networking platforms. The choice of recruitment channels is crucial, and creating attractive job ads that stand out from other offers in the selected channels are equally important.
Step 5: Screening and shortlisting
You will receive tons of applications within a few days of posting the advertisement.
Now is the time to screen the resumes and select the most suitable candidates who will be invited for an interview. If you get many impressive entries, you may conduct a preliminary screening to decide which candidates will proceed to the main interview stage.
Step 6: Interviewing
The interview stage is one of the most important recruitment process stages. One or two interviews are enough for some roles to shortlist ideal candidates. Leadership, management, and other highly sensitive positions involve multiple evaluation rounds.
The interviews may be in-person, on a phone call, video call, asynchronous video call etc. The interviewer must have handy, critical interview questions and other technical tools necessary to assess the candidates' problem-solving skills, technical knowledge, cognitive abilities, and motivation.
Step 7: Background and reference checks
After an applicant has successfully passed all the recruitment process stages and proven qualified for the job, the next step would be to do background checks.
Background and reference checks are necessary to verify the educational qualifications, work experience, and professional certifications they claim to have. Contacting their references to gather feedback on candidates' character, personality, and work ethics is also pertinent. Some positions also require a criminal record check, and it is necessary to notify the candidate about the checks performed.
Step 8: Choosing the most outstanding candidate
After going through all these recruitment process steps, the employer will have a handful of outstanding candidates. Selecting one or a few out of many qualified applicants can be a daunting decision to make.
To make an informed decision, you must compare their resume, academic qualifications, and performance during the interview, evaluations, and skill-testing stages. With careful analysis, your team will eventually select the best option. This also includes evaluating cultural fit, which is critical in high-performing teams.
Step 9: Making an offer
Finally, your organisation has to send the successful candidate an offer. A job offer includes the terms of employment, salary and other benefits, starting date, and additional relevant information. The applicants may also negotiate the salary, benefits, and other working conditions.
Job offer emails are a common way to make the offer – it is in written form and enables negotiation.
Step 10: Onboarding
The recruitment process ends with the onboarding process. After the employer and employee have both agreed on the salary and other terms of employment, the employee has to learn about the company's policies, procedures, and culture.
Onboarding also involves completing paperwork like employment contracts, tax forms, and confidentiality agreements. The new staff also meets their new colleagues, undergo training, and become an integral part of the workforce.
Streamline your recruitment process with Teamdash
The recruitment process can be challenging even for the most experienced HR professionals, but you can simplify yours with Teamdash. Teamdash is an Applicant Tracking System designed to simplify and optimise your recruitment efforts.
With Teamdash, you no longer have to spend time going through manual paperwork, endless spreadsheets, and overwhelming candidate data. You can also easily track and measure your performance.
Teamdash automates the entire process so that you can focus on finding the right candidate who ticks all your boxes.
Streamline your recruitment process, save up to 70% of your time and hire top talent fast.