In today's competitive job market, attracting the right candidates starts with crafting the perfect job advert.
In this article, we'll explore some of the best job advert examples and provide you with templates to help create your own attractive, engaging, effective job postings you can be proud of.
Plus, we'll introduce you to a game-changing job ads landing page builder that will make creating attractive job ads a breeze. Adverts are meant to be eye-catching and job adverts are no different! Let's dive in!
Why is an attractive job advert important?
The number one reason why so many job adverts fail is that they are written mainly as simple job descriptions. They are neither visually attractive nor interesting to read. There are thousands of job adverts published daily, but most of them look more or less the same. In the worst-case scenario they even have the same photos from the same stock image libraries plastered all over them. In order to compete for top talent, the key is to be memorable and stand out.
Our candidates should be excited to read about the open position, excited about the challenge and the possibility of applying and getting chosen. It should trigger them to take action right away in order to be at the top of the candidate list as the early bird (who gets the worm).
A good job advert is essential for several reasons:
Attracts the right candidates: A well-written and designed advert helps you target the right audience, ensuring that the applicants understand whether they fit the description of the role.
Sets clear expectations: A good job advert outlines the role, responsibilities, and expectations, reducing the likelihood of misunderstandings and increasing the quality of applicants.
Reflects your company culture: A thoughtfully crafted advert represents your company's values, helping you attract candidates who will fit in well with your team. This is why using your photos instead of stock imagery is a good idea.
What do you need before you start designing your job advert?
The first thing we need to make sure of is that we have the basic input from our team and hiring manager to hit our target:
Who are you looking for? You need a description of the optimal candidate. Ideally, input in terms of characteristics necessary to be a good fit for the team would also be beneficial.
Why and for what? Are you recruiting because someone left the company, or is it a new position? You need a job description that is detailed enough to attract yet not scare away good candidates. Less is more when the "less" is the most crucial skill set and must-haves.
Why should your company be the employer of choice for your candidate? Learn to build your employer brand, as this is becoming increasingly important for highly qualified candidates in demand in multiple places. What benefits do you offer? What does your company care about? What are your values? Make sure you are selling your company well.
Job advert examples
How you structure, write and design a job advert depends on the channels you publish it on.
Choose the most relevant recruitment channels based on the candidates you are looking for. When using several channels for the same job opening, make sure you customise the ad for each channel in case that is required. Channels might require a different approach in terms of the best-performing formats (image, video, landing page), information and the call-to-action.
Some channels to consider:
Social media (Facebook, Instagram, LinkedIn etc)
Company's career page
Online job boards
Online news portals
Newsletter
University mailing lists etc.
You can see an example layout and an example advert that works and looks attractive in most of these channels below.
Example 1: Job advert that looks attractive on most channels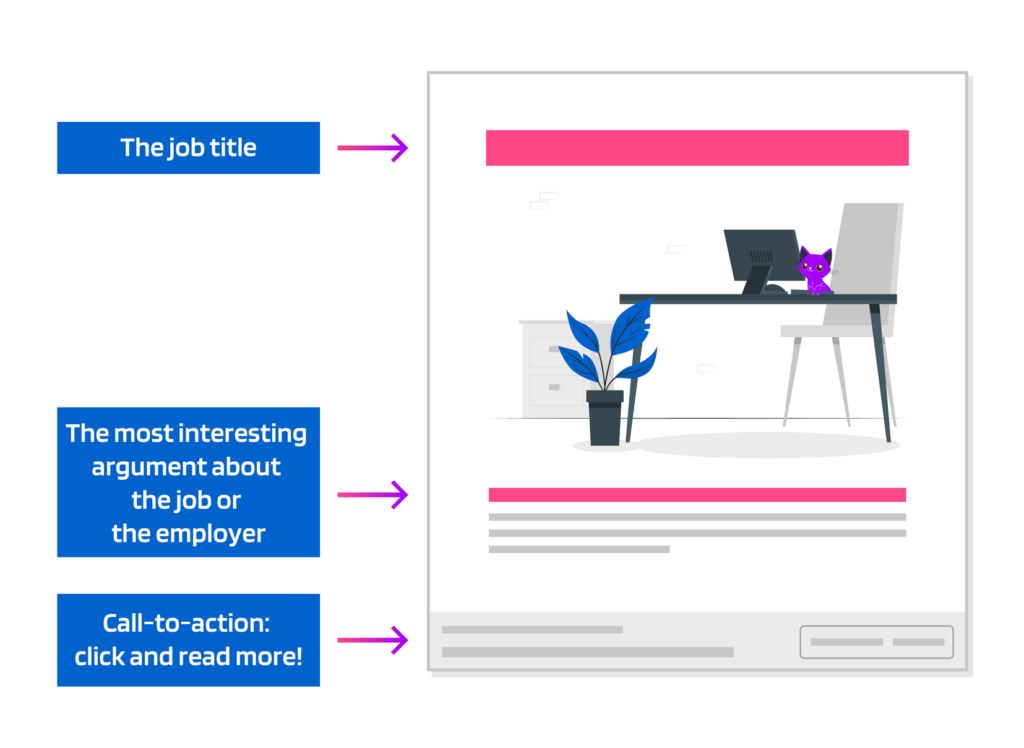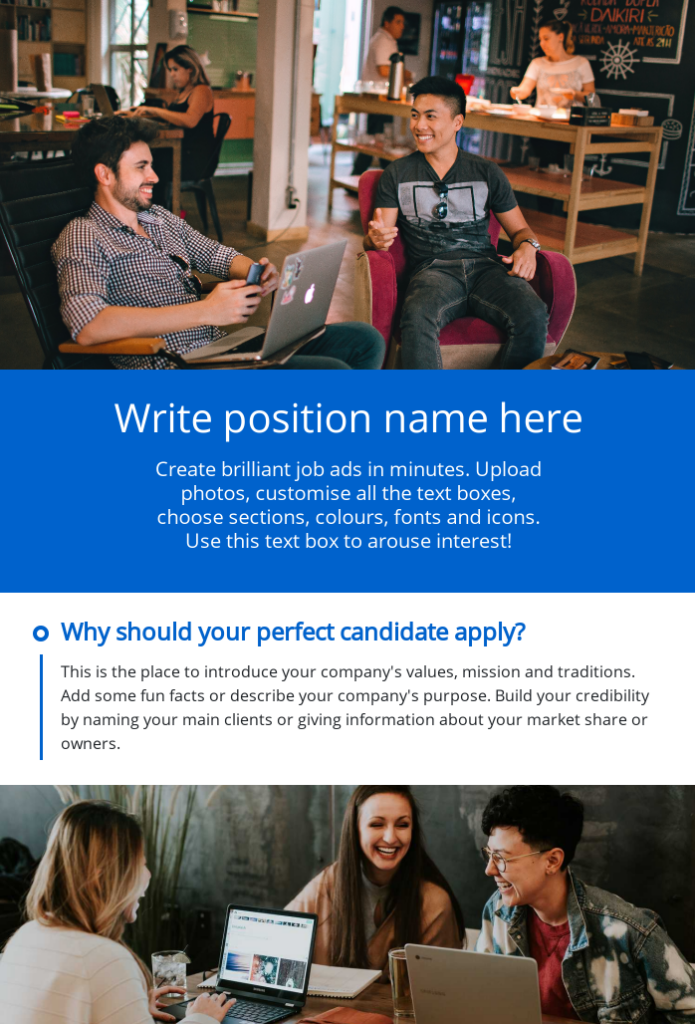 With the Teamdash job advert creation tool, you can use templates and customise them to fit your needs easily, without the help of a designer or marketing team.
Example 2: Job advert on career page or landing page
On the other hand, the job advert on the career page or a recruitment landing page should present all the vital information to make someone apply:
Make sure to feature the following:
Job title
Information about the employer
Arguments for applying and trust elements
Description of the perfect candidate
Information about the job
Job location
Applying instructions
Call-to-action: apply now!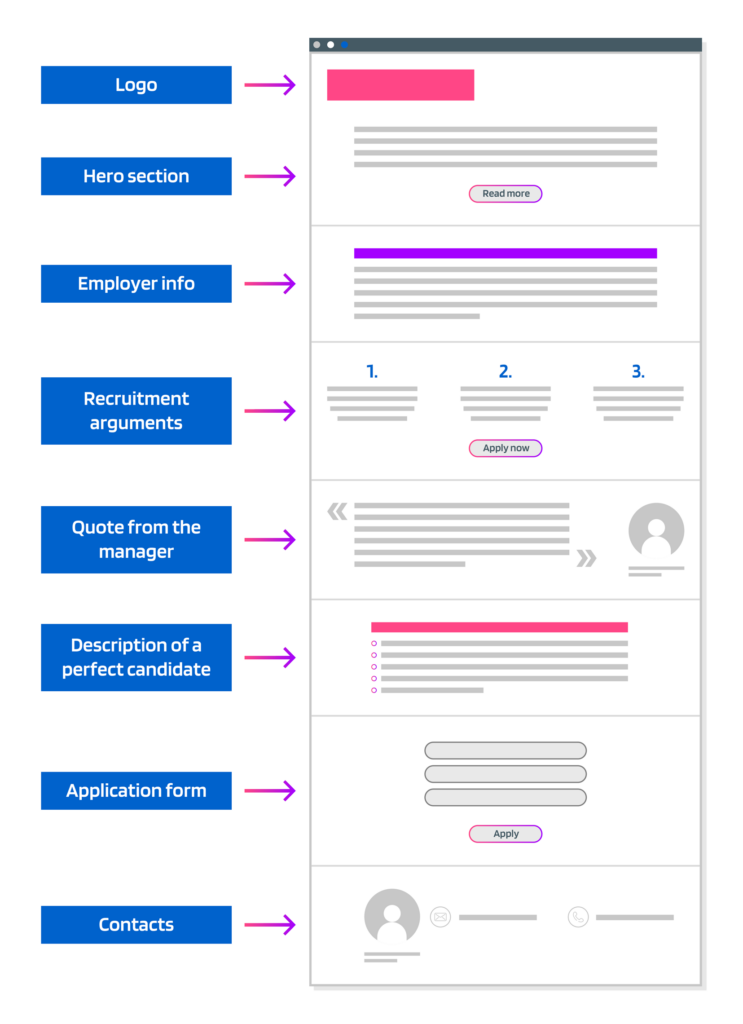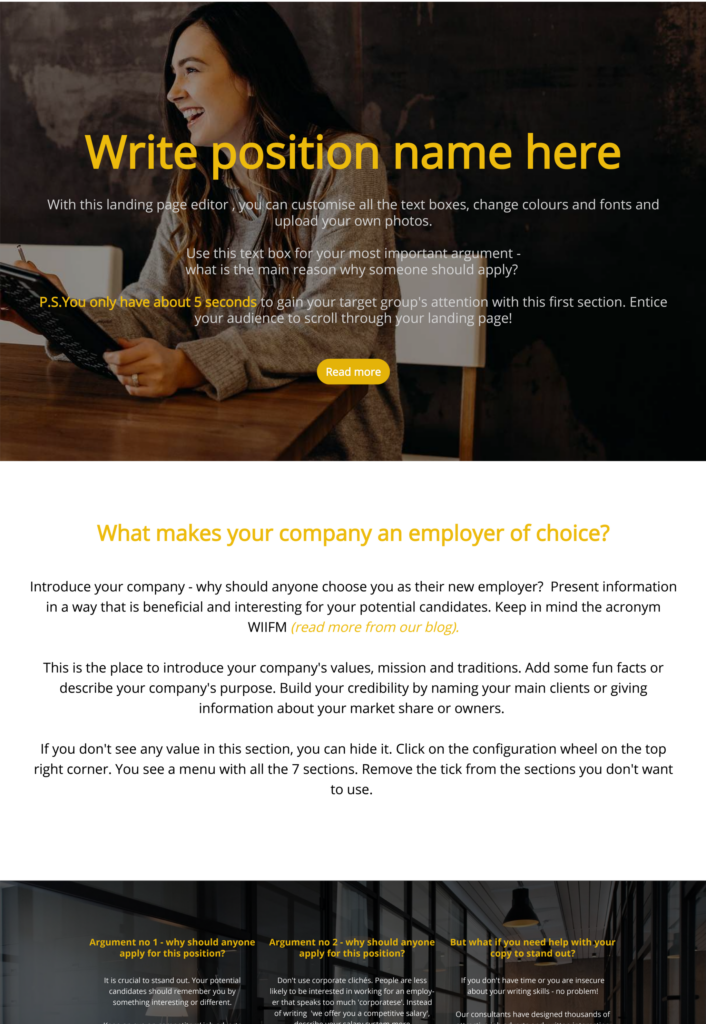 How to write job advert copy that works?
First and foremost – don't use corporate cliches. People are less likely to be interested in working for an employer that speaks too much 'Corporatese'. Copy is one of the most important things you can use to stand out from your competitors. Do not underestimate it!
Instead of writing 'we offer you a competitive salary', describe your salary system in more detail. Don't be too official and vague. Think of it as writing to someone you already see as your new team member. What would they appreciate?
Some examples of what to try and AVOID in the "what we offer you" section:
Competitive salary
Modern office
A great opportunity in a fast-growing company
Opportunity to learn and grow
The fast-paced environment
Amazing, fun company culture
Sociable and friendly team
Describe your employer in your own words and give examples. Involve your colleagues in this process. Ask them what they appreciate most about working for the company. What do they enjoy? How would they describe the company as an employer? How would they describe the "Amazing and fun company culture" in more detail and with examples from day-to-day work life?
I have written more about what to remember while writing a job advert here.
What kind of visuals should I use in job adverts?
When it comes to choosing images to use, I suggest avoiding stock photos and use your own images as much as possible – present photos of your coworkers, not models or actors. You need to ask for their permission and explain how you will use these photos, which may seem time-consuming at first. This will give a more authentic feel to the position and company as a whole.
A tip from a recruiter: A photo of the manager and his or her quote is one of the strongest trust elements on the job advert.
Show your office, meeting rooms, kitchen, modern work equipment, office dog or something else that your colleagues love or are proud of.
You shouldn't worry about the quality of the photos too much. In recruitment marketing, authenticity and showing real emotions is important. Photos taken with phone work perfectly for sharing online and work better than the overly-posed and uncomfortable corporate mugshots with too much makeup.
Easily create attractive job ads
Job ad copy is crucially important. So is the visual appearance. Visually appealing and eye-catching job adverts are going to help you get better results on your recruitment projects.
Designing job adverts has been a constant struggle for recruiters for years (understandably). When did it become expected for us to also be designers and marketers? However, as often involving designers is time-consuming and costly, recruiters are sometimes forced to deal with the job ad design themselves.
Lack of time and no experience with design programs like Adobe or InDesign has caused a paradox – every recruiter knows the importance of the job advert design, but most of the job adverts are still visually quite bland.
Fortunately, there are some easy-to-use tools to help recruiters.
For example, Teamdash's free Job Advert Tool. An easy-to-use drag-and-drop tool that allows you to design job ads and landing pages that feature all elements of your employer branding. You choose the sections, the design and the elements you want to use.
So – customise the design, download the job ad, and you are ready to recruit!
Once you're done designing the ad, create a stunning landing page with Teamdash's Landing Page tool that helps recruiters create mobile-friendly and attractive recruitment landing pages without the help of a designer or web developer.
Easy-peasy!
Start your 14- day free trial to realise that creating attractive recruitment landing pages is easy!
Updated August 2023. This article was originally published in January 2021.