In this guide to employee onboarding, we're going to look at what onboarding is, why it's so important and what makes a good employee process. We'll also look at some tips for successfully onboarding remote employees as well as office-based staff, give some examples and cover the main employee onboarding software tools that recruiters should know. If you're a recruiter who's serious about winning and retaining good clients with your strategic HR and recruitment knowledge, this is a great topic to get on board with (pun intended).
What is employee onboarding?
Employee onboarding is the structured process that organisations use to integrate new employees into their roles and the business itself. It applies from the point where a new hire accepts their role and covers the steps needed to help get them up to speed in their new role, spanning everything from team introductions to administration. A good employee onboarding process aims to expedite the process of bringing a new person on board and then develop them into high-performing, fully-functioning employees within their new role.
Why employee onboarding is so important
A good employee onboarding process can unlock various benefits for employees and the business alike, for example:
Benefits for employees
New starters feel supported, encouraged and aligned with the working culture.
They can also build their networks quickly, minimise time spent on admin or trying to find out answers themselves, and quickly progress to competence in their role.
Benefits for the business
A faster integration process for the new starter – saving time and resources by aligning support to a new starter's needs and paving the way for them to start performing faster in the job.
A motivated, encouraged employee who recognises their positive experience, feels supported, and engages with the culture.
A better chance of progressing the new hire into the business, rather than seeing them back out at the last minute (something that can be frustratingly common otherwise).
Employer branding gains, as happy new hires will feedback on their experiences to their own networks and encourage friends and relatives to apply to a business they think is a good employer.
Reduced time burdens on other departments, such as HR, particularly where onboarding software can be used to automate parts of the process.
What makes a good onboarding process: tips for success
A good onboarding process will begin from the minute that a hiring manager makes an offer to a candidate to the moment when that individual has progressed to working effectively, productively and independently within the role. Here are some key things to remember to get the onboarding process right for everyone:
1. Get an onboarding workflow in place
Effective employee onboarding can be a comprehensive process involving various departments, activities, people and touchpoints – all at defined points. A well-thought-out workflow will ensure that everything happens when it should and how it should, with defined outcomes for measurement. When a business has a seamless onboarding process and a clear workflow, it can deliver great outcomes, consistent onboarding experiences and clear routes for measuring the effectiveness of these activities.
2. Train your people managers to deliver effective onboarding
When you've taken the time to develop your employee onboarding system, implementing measures such as handbooks and mentors, make sure you also train your people managers fully in the new system and processes so that they understand it and implement it correctly. This is a vital stage, as a process will only be effective if it's delivered consistently and in the right way. Taking the time beforehand saves time on later onboardings while offering an onboarding experience which strengthens the employer brand.
3. Use onboarding automation
Onboarding automation tools are a vital investment for businesses, as they allow them to:
Benefit from pre-defined onboarding templates
Automate stages of the process to reduce the administrative burden
Shorten the onboarding cycle
Reduce the risk of errors
Cut down on admin tie and manual inputting
Offer a consistent experience to all new hires
Make the process flow transparent and available to all with responsibilities within the process
Optimise the onboarding experience by capturing feedback for ongoing development.
Employee automation software can often also be integrated into other tools used for recruitment and HR to maximise efficiencies and value to the business. These tools are increasingly affordable, quick to implement into the business, intuitive to use and extremely powerful. They can really help businesses deliver the strategic HR that a modern market demands for talent management.
4. Gather feedback on the onboarding process
The more feedback you can gather about your employee onboarding experience, the more data you have to further refine and develop it for your audience's needs. Your new hires will also feel as though their views are being valued and this can be very motivating for them; demonstrating your commitment to being a supportive, people-led employer.
5. Remember your remote workers
You may also need to adjust your onboarding process for remote workers so that it differs from office workers. This could include inviting them into a team-based location for a few days or delivering as much as possible of the induction and onboarding experience online with videoconferencing and digital tools. Including remote workers in the everyday work culture can be a bit more challenging, but also offers possibilities to be creative and think outside the box.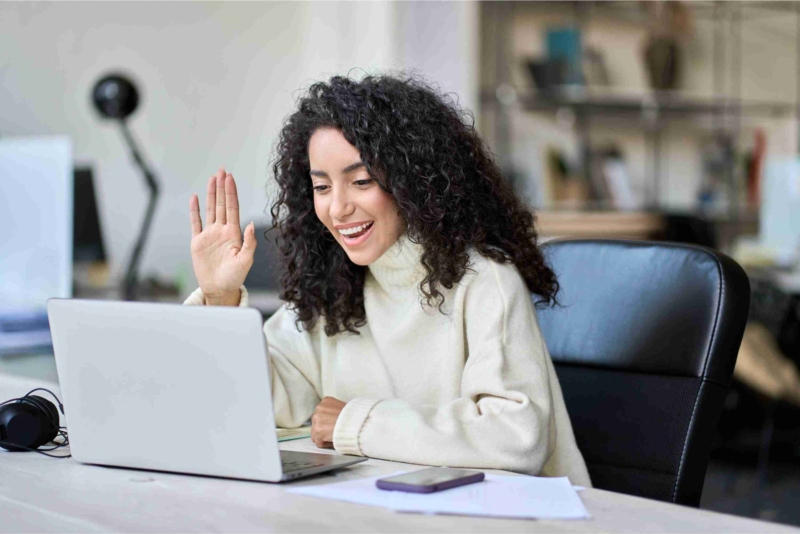 How to plan your onboarding process
Each business will have its own onboarding process, timeline and workflow, but these are typical stages in a good practice process.
Make the job offer
Good employee onboarding starts immediately after recruitment once an applicant is selected and the job offer is made. The HR manager will send the offer letter with additional paperwork and forms to complete. This communication should be friendly, positive and in line with the organisation's values and culture so that the new hire already gets a sense of the employer brand and what they can expect.
Await the offer acceptance
Once the job offer is accepted, a good practice onboarding process will include a quick call to the new hire to go through the next steps, review key documentation and answer any questions. Engaging new hires throughout the process makes the chance of success far stronger.
Move through the waiting period
Some individuals change their minds about accepting a job offer during the waiting period. They may get a better offer from another employer, too. So, build rapport and emotional ties with the employee to build that connection and show that they are valued. Keep in touch with regular communications.
Prepare for Day 1
Most new starters have mixed feelings on Day 1. So, the main duty of HR and line managers is to make sure they feel comfortable and welcome. Creating that sense of belonging is vital, so welcome your new team member warmly, introduce them to their immediate team members and help them feel that they are set up to succeed. Having an employee onboarding checklist is useful to make things easy for everyone. This could cover off-key activities such as:
Running through the orientation process and schedule and meeting key people / doing a tour of the office and main facilities
Getting IT assets and log-ins sorted, plus access passes etc.
Getting essential office supplies in place and the desk ready
Completing forms for salary payments and other essential admin
Getting time with the assigned mentor for the onboarding period
Having the welcome kit ready in the right sizes
Prepare the welcome kit
The seemingly small things that help convey company culture are just as important as the equipment and log-ins.
What started out from startup culture has also moved on to the corporate world – welcome kits. These can contain directly work-related items but also some additional fun things. Here are some examples:
Company T-shirt, polo or sweater
Company mug with a name, pen, notebook, stickers
Personalised welcome letter
Company handbook
First-week schedule and important policies
Company map or neighbourhood map with eating places and coffee shops
Instructions on how to make an announcement
Induction training
Your new hire should go through a formal orientation session to cover the business culture, goals and strategy and to learn about essential processes and policies. Setting up a regular 1:1 meeting schedule is also a good idea. This is also the right time to set objectives for the first 30-90 days of the new role, and many businesses will also schedule a skills audit to start building a specific individualised training plan that is in line with the role.
Review
After the first scheduled period in the onboarding process (perhaps a month), there will be a review period where the new employee and line manager can talk about what's happened so far and check those expectations match what's happened to that point. This conversation could cover:
The new starter's experience and thoughts and whether it matched their expectations
Their performance to this point and feedback
Any issues, concerns or questions
Feedback on the onboarding process in general
A discussion on progression and career plans
Identification of any additional training needs
The review process then generates valuable data that can feed back into the review and employee management process, and where automation is being used, this process becomes extremely powerful and valuable to the business.
Onboarding software and tools
Automation is essential if you're serious about building a strategic, value-adding HR function within your business that attracts, develops and retains the best talent for the longer term.
Teamdash is a powerful recruitment software offering applicant tracking system functionality to clients who want more from their recruitment. Packed with valuable features such as interview scheduling, asynchronous video interviews and social media recruitment tools, Teamdash supports your strategic HR efforts and enables better recruitment outcomes. Contact us for a free demo and trial to find out more about how it can benefit your business!