As a recruiter working within an in-house team, you often hear about the possible value of using a recruitment agency to outsource this function, whether wholly or as a supporting resource to the in-house team.
But although recruitment agencies offer a variety of features and potential benefits to some businesses, there are disadvantages to taking this route. In this blog, we'll look closely at some of the potential advantages and disadvantages of recruitment agencies.
Advantages of recruitment agencies
For some businesses, there are clear advantages to using a recruitment agency to support recruiting efforts. For example:
Access to expertise
Many businesses, particularly SMEs, lack a fit-for-purpose in-house recruitment function to meet staffing needs. For this reason, they may prefer to use a recruitment partner to access the skills, processes and methods needed to find quality hires when needed. The agency route is often used as a means of accessing expertise across all corporate functions, and this can be a key benefit for businesses without the means or desire to manage their own in-house recruitment function.
Potential cost-saving benefits
Hiring, training, managing and supporting an in-house recruitment team can be expensive, so again, some businesses will prefer to buy these services more flexibly. A recruitment agency can be a useful option for businesses with more occasional recruitment and a smaller headcount.
Flexible services
Another possible advantage of using a recruitment agency is that their services can be brought in flexibly so that your business has tailored recruitment, staffing and potential candidates ready as and when needed.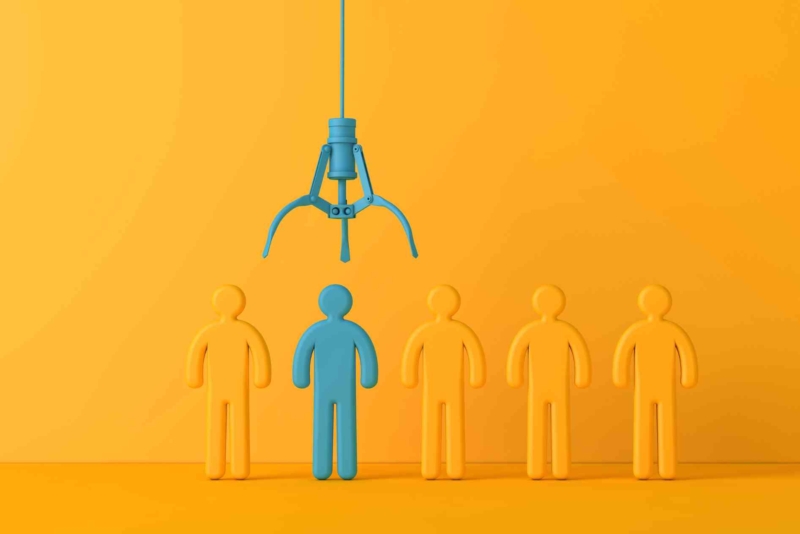 Disadvantages of recruitment agencies
For every advantage, however, there are potential cons of using a recruitment agency. These are some of the main downfalls to consider:
The cost of using a recruitment agency
Using a recruitment agency is invariably expensive because your business is buying a professional service on a contracted basis. This might be as minimal as occasional temporary staffing support during peak business periods or to secure specialist skills access for executive search – but whatever you buy in, your business will pay a premium.
Suppose your business is likely to need regular high-quality staffing and recruitment. In that case, investing in creating and managing a good in-house team underpinned with the best enabling technologies to make the process smooth, streamlined and efficient is often a far better choice. Over time, and with the ongoing recruitment requirements spanning everything from seasonal hires to company culture and employer branding, it can be a far more valuable approach to maintain your in-house team.
Lack of in-house control
When you use an external recruitment agency, you hand over control of your recruitment to an external partner, who will never understand your business in quite the same way that a permanent, in-house team will. The use of an external business also removes control from your management team. You can only access outsourced recruitment services as you contract and pay for them. You may find that there is very little flexibility or 'give' beyond this – unlike with an in-house team who work as part of a committed business to help deliver and perform for that business.
With your in-house team, you can rapidly access vital management information, get key updates and adjust your approach as and when needed without cost or delay. This degree of control can hugely appeal to businesses who desire to succeed and prioritise recruitment as an enabling function.
A missed opportunity to grow in-house capabilities
Modern recruitment is a fast-evolving function that requires a range of skill sets. Suppose you can build a team with the technology, systems and insights to manage everything from modern social media hiring to corporate culture, talent management schemes, employee referrals, employer branding and strategic workforce planning. In that case, you will have a far more powerful in-house resource with the ability to really deliver for your business.
So, should you use a recruitment agency or recruit in-house?
With recruitment now on the cutting edge of success for most organisations, particularly with the so-called 'war on talent' in full swing, investing in internal recruitment capabilities tends to be a powerful option.
Of course, for every business, the decision on whether to use a recruitment agency or build an in-house team will be personal based on local factors such as time, budget and access to recruitment talent. Some SMEs may prefer to use an agency to begin with. Other more established businesses may use a recruitment agency for particular activities at key times of the year to provide additional support. Some may prefer to outsource their corporate functions entirely as part of a cost-management measure, at least for an interim period of time while the business goes through a period of change.
However, for most businesses that are serious about their recruitment success and already on board with key topics such as employer branding and corporate culture, the decision to invest in-house will be a sound one.
How to make in-house recruitment much easier?
Undoubtedly, it can be challenging to build an effective, high-performing recruitment function with the skills needed to secure talent in a highly competitive marketplace. But with time, effort and investment, creating a high-performing recruitment team is possible and desirable.
One of the main investments your business can make in its recruitment function is to invest in modern recruitment software that helps automate tasks and streamline the recruitment workflow. Let's look at some tips for success:
Automate tasks
The work required to attract, screen, interview, offer and onboard new starters can be heavily process-intensive, so software systems help to save time, deliver a better candidate experience, minimise errors and provide valuable management information at all times. A good ATS will make all of this possible, allowing your recruiters to focus on more strategic tasks, including candidate engagement and employer brand development.
Smooth the recruitment workflow
Effective recruitment processes also include a number of necessary stages, including candidate communications, interview administration, paperwork, screening and onboarding. An ATS helps to integrate and streamline this workflow for the best possible results.
Deliver multiple functions
A system such as Teamdash offers a series of essential integrated functionalities into one ATS, such as interview scheduling, asynchronous video interviews and social media recruitment tools. This allows team members to work on one platform to deliver the best possible recruitment outcomes and experiences.
Extract vital Management Information (MI)
All managers need to understand what is going on in the business to manage it effectively, and this includes having a view of where recruitment activity and hiring are at any point. An applicant tracking system (ATS) makes this easy with ready reporting and data at managers' fingertips, all reported in real-time.
Find out more
For in-house recruiters, Teamdash offers a powerful suite of ATS functionalities that make delivering an effective, results-driven recruitment function easy without stress, wasted time or errors. The system is smooth, easy to use, intuitive, and easy to integrate with other existing processes and software packages.
To learn more about how Teamdash can benefit your in-house recruitment team, please contact our friendly recruitment automation experts for a no-obligation demo!