"The best questions for job interviews" – Hmmm…sounds like something both recruiters and job-seekers Google daily.
Getting a list of questions that work like a charm every time would be nice, right?
It's one of those things where the answer is the feared 'it depends...'
Even though there isn't a cookie-cutter approach, there are still guidelines to follow when conducting the best job interviews for you and the candidates. It's really about getting the answers you need instead of formulating the perfect questions.
Our co-founder Marie Evart invited Laura Holcome from Faculty and Inge-Helene Pallo from Brandem to share some expert advice to elevate your interviewing skills and process without having to do hours of research.
About the experts:
Laura is a true fan of candidate experience, and her offer acceptance rate of 100% is a testament to her expertise.
Inge-Helene has a background in journalism, and it's safe to say that journalists know a thing or two about interviewing.
Marie is the co-founder of Teamdash with the mission to empower recruiters with the tools to make their lives easier.
Whether you feel like a natural interviewer or you feel the jitters when it comes to interviews, this article will help you be well-prepared to ace your next job interview.
Do you remember your first interview?
Laura remembers that before her first interview, she was super nervous, which caused her to stumble over her words.
It makes perfect sense because she didn't have much training, and most people aren't natural-born interviewers. Lack of experience and training often leads to sub-par interviews.
Inge's first interview was four years ago, and she started with online interviews. She tried to be well-prepared and felt like she needed to be ready 10 minutes before the interview.
By now, having conducted hundreds of interviews, she knows that 2 minutes will suffice. Again, practice makes perfect!
Marie was also very nervous. To calm her nerves, she had all the questions prepared and written down on paper.
Sounded like a great idea in the beginning, but ended up not working for her. She was focused on asking the questions on paper, not the answers. It is difficult to recall the answers this way.
As you can see, they all had a bumpy start but now have plenty of experience under their belts and can reflect on their first interviews with humour.
Let's see what they have learned over the years. And how you can learn from their experiences.
How do the interviews affect the candidate experience and employer brand?
Interviews have a huge effect on candidate experience and employer brand – the interview process is the first indication of what it is like to work for your company.
Laura's tip is to make the candidate as comfortable as possible. It is easy to make the candidate feel like they are being interrogated and put on a spot. You should structure the interview around getting AND giving information. You should also sell the candidate on why they should choose your company for their next career move instead of all the other options. Remember, it's a candidate-driven market!
Inge says that interviews often bring out emotions. Of course, you want the emotions to be positive. As a recruiter or interviewer, you represent the company, and the candidates will definitely remember when something goes wrong and tie it to the company. Word of mouth is a strong influencer – candidates share their experiences with their friends, family and peers. This is especially prominent in smaller markets and tight-knit communities. So, a strong interviewing process helps build a strong employer brand.
Marie sees that many companies invest in employer branding campaigns but don't invest in improving their recruitment processes. This needs to change. Of course, it is important to communicate your employer brand, but when you don't back that up during your recruitment process, it leads to a bad candidate experience. Interviewing is one of the first face-to-face touchpoints in the recruitment process, so not focusing on improving it can be costly.
The biggest mistakes you can make in job interviews
Trying to catch the candidate out. Laura says that you don't get the best out of the candidates when you put them under pressure. One of the worst approaches she has seen is flooding the candidate with information and then asking, "What did I talk about 5 minutes ago?". Some interviewers actually believe it to be the best way to check the candidate's listening skills and memory. Interviews are stressful situations. Why would you increase the chances of a candidate doing poorly by putting extra pressure on them?
Forgetting to welcome the candidate – ask whether they would like to have tea or coffee. Inge says it sets the tone for the entire process: messing up the start increases the chances of the interview not going well exponentially. Even with virtual interviews, you should have a proper introduction so the candidate feels more comfortable as they know what to expect. It seems like an elementary thing, but is often ignored. Especially when interviewing isn't a part of the person's everyday job, like hiring managers who oftentimes have to fit the interviews into their tight schedules.
How to conduct job interviews?
Interviews are stressful situations. Therefore, it is important to use proper techniques which help alleviate the stress of conducting job interviews.
Laura shares content pillars with the interviewees before the interview takes place. This helps keep the evaluation process fair and consistent – everyone has the same starting point. Laura gives content pillars which are specific to the role, and usually, they involve around 4-5 topics.
Some candidates have poor memory, which does not necessarily reflect their skills. People have other things going on in their lives, and just like you, they might be participating in many interviews in a week or even on the same day.
Sending the topic pillars in advance helps the candidate prepare with more specific examples and responses. For example, when hiring a digital marketing specialist, you might ask about their content marketing skills – their experience in building and deploying multi-channel marketing strategy, what platforms they are familiar with, which metrics they use to measure their performance or their experience with SEO. You can also ask questions about their motivation – e.g. what do they enjoy in digital?
By sending the pillars or sometimes even questions in advance, you're drastically improving the candidate experience AND hiring managers get amazing, high-quality answers to specific questions. That is why Laura has reached a 100% offer acceptance rate – candidates know what to expect. Nothing is being missed. After each stage, it's either a 'yes' or a 'no', making the recruitment process speedier.
It is also common to record interviews. However, sometimes people freeze when you hit the record button, which is why it is important to start the interview with a proper icebreaker or warm the people up before asking any job-related questions.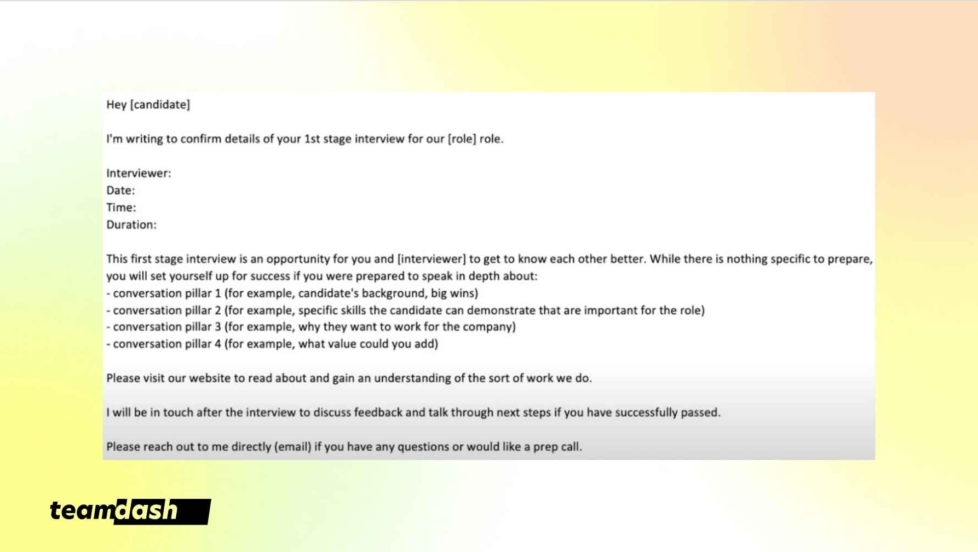 How to schedule job interviews?
Interview scheduling is one of the most time-consuming tasks for most recruiters and HR professionals.
Inge uses Teamdash (formerly RecruitLab) interview scheduler, which allows to schedule interviews automatically. You can do everything with one click and have prepared templates. She tries to play with the words in the scheduling message to make it more personal. If the schedule allows, she also makes phone calls.
On average, Teamdash users have saved 80% of the time spent on scheduling. No need to make back-and-forth phone calls or send emails. All video interview links are created and added to the message automatically.
Laura uses screen calls to personalise the process and help set the candidates up for success. They have a separate position for scheduling – the Interview Coordinator does the scheduling manually, taking the load off from recruiters.
However, most companies do not have the resources to keep a separate person on the payroll for that. That's when interview schedulers come in handy.
What kind of questions should I ask?
You should have a set list of structured interview questions for the role, but also be ready to follow the direction of the interview flow. Everyone participating in the interview should be curious, interested and genuine. Therefore, it is nearly impossible to plan 100% ahead.
Additionally, you should have topic pillars in place, which can vary whether you are talking to an inbound or outbound candidate.
Outbound candidates are likely less aware of the company and role details than inbound candidates. This might mean that you need to dedicate more time to selling the role to the outbound candidate. However, you should use the same questions to assess the candidates against the same criteria. Whether the candidate is inbound or outbound should not affect the criteria.
What kind of questions should I avoid?
The worst interview question is: "Walk me through your CV". Sadly, it is also one of the most used ones.
Instead of asking these general questions about points already mentioned on the resume, you should ask targeted questions about the role. "How can you use your experience as X in company Y and apply it in this role?". Try to make it engaging and focus on the points and skills that stood out from the resume. It also shows that you have paid attention and taken the time to go through the candidate's CV.
Some recruiters wonder whether asking why someone has applied for the role is okay. It is!
However, it's better to reword it as "What drew you to this position?" or "What made you interested in this company?" This gives a better indication of what their motivation/passion/drive is. Most people apply for jobs to have at least the base level covered – we all want to live and eat, but the success of this hire depends on elements beyond that.
How to structure the job interview?
It is important to remember that introducing the company and selling the company to the candidate is also a part of the interviewing process.
A way of doing that is by writing a script which includes your own introduction, information about the company and going through the company. Laura spends the last 10 minutes of the interview selling the company.
Laura recommends having the script in front of you during the interview because it makes storytelling easier.
She answers questions about the company:
How did the company start?
What is the mission of the company?
What is the pain that's being solved?
Who are the clients?
What problems are being solved?
She then explains the specific role and what makes it unique. Culture is very important, and personal anecdotes help convey it. Tell the candidate why you like to work here and why you wouldn't want to leave.
You must not forget to give the candidate a chance to ask questions. But most of the time, Laura has everything covered in the script.
The last step of the script, the company's sales pitch, will hopefully excite the candidate about the role and the next steps.
How to write a script as an agency recruiter?
Making a script seems like a tactic that works for in-house recruiters, but not only!
Agency recruiters can also do it. Focus on gathering information about the company and role before starting the recruitment process. You can gather information by interviewing hiring managers and other workers related to the position. It is also common practice for agencies to ask their clients to fill in a profile sheet to get the specific criteria for the role.
Additionally, you can reflect on the atmosphere when meeting the client to explain the company culture to the candidates and to see whether the candidate would be a good fit for the role.
Should I prepare a presentation?
Usually, there is no need to prepare a presentation for the interview. Laura uses a link tree in the interview invitation email or message – candidates can gather information about the company and explore the resources available online. She also includes a company fact sheet with the most important information. After the interview, she sends out a PDF file with the most important information shared in the script.
What kind of questions should you ask at a recruitment interview?
Inge says that it's best to have a curious mind and be genuinely interested in learning more about the candidate.
It is quite simple to prepare the structure when you have an interviewing strategy and checklist. The goal of the interview is to find out whether the candidate matches the required criteria and skills and whether they would be a good fit for the company overall.
There are different types of questions to ask to find that out.
Good questions for introduction
Can you tell me more about yourself? Instead of simply asking the question, you can also make it more fun. Inge uses career cards, which are similar to the board game Dixit. You ask the candidate to talk about a card or ask them to select a card. It shows how adaptable the candidate is, and it is an ice-breaker which allows them to open up and show their creative side. It doesn't work for all candidates, and that's okay. You can stick to the question or simply move on with your script.
Why did you decide to apply for this role?
What do you know about the company already?
What stood out in the job ad for you? This also gives you some tips on what to include in your next job ads.
Content-based questions
You should use open-ended questions to ask about the candidate's previous experience.
You shouldn't fully structure an interview. Taking notes and following the natural flow of the conversation is a good idea. Just make sure to follow the structure first to stick to the timeline.
Open-ended questions help you understand if the candidate is sincere and genuinely interested in the company. Making pauses also helps. It's a technique that worked well for Inge and is commonly used in radio: if you don't quite understand, pause for approximately 3 seconds and don't say anything. During that time, the other person usually understands that further explanation is needed.
Can you explain something further?
This question is helpful in finding out what the motivation is and whether the candidate is simply prepared for the interview or interested in the position.
What would you consider your strengths and weaknesses?
Laura advises looking for strengths that match the role and avoiding asking direct questions about strengths and weaknesses. Some candidates use this question to reframe their strengths as weaknesses. She is also not a fan of asking about the 'superpowers'. We are human, and it might throw some people off.
What are you most proud of?
Some people light up when they hear this question and want to talk about themselves. It can be professional or personal.
What is your ideal work environment?
Evaluate whether the company culture and workplace match the expectations.
How would you rate your x skill from 1-10?
This helps pinpoint weaknesses and strengths, especially with explanations of the score.
Laura says that if the candidate meets 60-70% of the criteria, she passes them through to the next stage. It's difficult to find a candidate who ticks all the boxes straight away. It's important to give the candidates an opportunity and recognise potential.
How to end the interview?
The last step in your interviewing process should include reflection. Ask questions like:
Is there anything you'd like to add?
Do you have any questions for me?
Do you see yourself working here?
As you heard more about the role, do you imagine yourself in the role?
If I made you an offer today, would you accept it?
These questions allow you to get information about hesitations. The candidates can comment or express their fears about the position. You still have a chance to alleviate these and also express the excitement that the person is in the process and considering the position.
How to understand candidates' motivation and avoid counteroffers?
Usually, when you have a candidate in your recruitment funnel, they are looking for a new job. They might have a problem with their current employer. They might look for advancement opportunities or wish to enter a new industry. Whatever the reason, being transparent about your process helps the candidate be more transparent about their own motivation.
You can ask:
What about your current role makes you want to leave?
And then mirror the responses or pain in your script.
Do you have any other offers on the table?
How would your manager react if you told them you were planning to leave or got another offer?
If their current employer makes the counteroffer, ask:
Why wasn't the offer made before you decided to leave or said you were looking for new opportunities?
You should do regular check-ins after the stages, communicate and ask how they are feeling, and see if they have any concerns or questions.
You can never predict whether the candidate will have other offers and can't avoid counteroffers.
Bringing the topic up usually leads to interesting discussions and gives good insights about the relationship with their current employer.
You can find more resources on questions about motivation under the Templates category in the Resources.
How long does an interview last?
The length of the interview depends on the process stage, the role and the people involved in the interviews.
Laura usually conducts screening interviews, which take about 30 minutes.
Inge says that the interviews in the 1st stage last about 45 minutes, sometimes 30 minutes, when it's an entry-level position.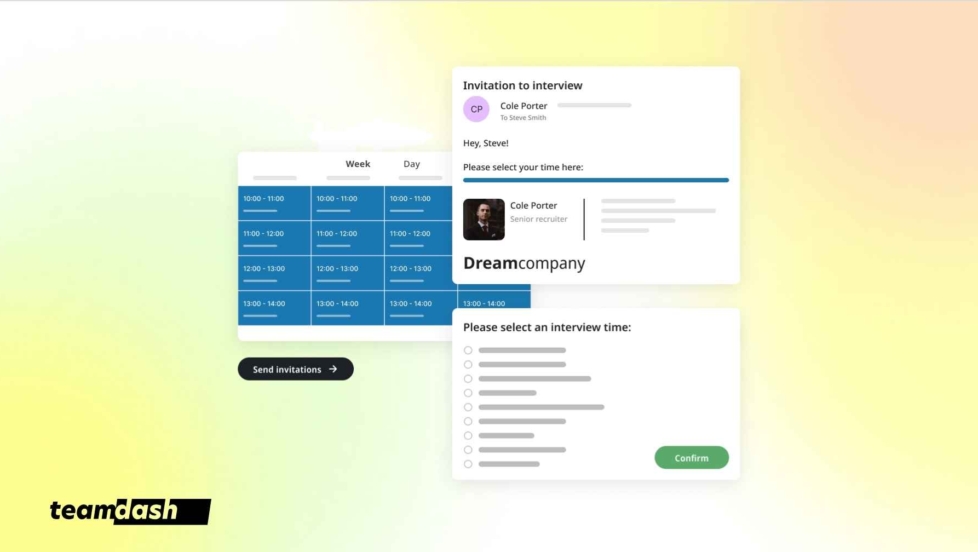 How to decide how many interview stages are needed?
It is common to conduct 2-3 short interviews and one longer, more in-depth interview for most positions. It varies for every role and is usually based on seniority.
Screening call usually doesn't count.
If you feel the need to hold more than three interviews, then you probably don't have a clear understanding of who you are looking for.
For most roles, Laura uses this interviewing process:
Introductory interview with the hiring team or general manager —> Task: to understand how they think or respond in situations —> Final stage interview
When the salary is in 6 figures, the process might be slightly different:
Introductory interview —> Role play —> Task —> Final stage interview
You don't need more than three interview stages, even with high-level roles, because it slows down the pace. It is a candidate-driven market, and you will lose candidates when you have too many (unnecessary) steps in your process.
How to decrease steps in the recruitment process?
Marie used asynchronous video interviews to reduce steps and pick up the pace when hiring for a Customer Success Manager's position. It also has decreased time-to-hire because it helps move along faster and select the best candidates to move on to the next stages.
Asynchronous video interviews allow you to record questions on videos or as text questions and send them out to get video responses. This allows you to interview more people in less time – in KPMG's case, they got 40 2-minute asynchronous video responses instead of holding 30-minute live interviews with 40 candidates.
Hiring managers also enjoy the short video answers. One hiring manager has said that it changed her perspective on interviewing and that she now is a fan of recruitment thanks to the short video responses.
Are hiring managers one of the bottlenecks of recruitment?
Recruiters know how hard it is to find a suitable time in their schedules, and because they lack training and experience, they might ask irrelevant or even inappropriate questions. They don't have the time to dive into each candidate profile and might not even know the difference between inbound and outbound candidates.
However, there are ways to prepare the hiring managers for interviews so that all parties are on the same page and can have a great experience.
As an agency recruiter, Inge has conversations with the hiring managers before the process starts. The goal of the initial conversation is to see if they understand how the process works and ask specific questions from the hiring managers about the candidate profile they are looking for.
When the process has reached the interviewing stage, it is important to divide roles: who welcomes the candidate, who does the intro, who asks more specific questions, and who provides the closing words and next steps.
Laura's initial step is to have a kick-off call to align the interview process. Every interviewer has to know the roles. Everyone should have the basics in place to focus on the interview and answers. This includes being present and prepared. When doing online interviews, ensure everyone has the camera set up properly, that sound and microphones work and that there are no loud background noises.
How to give the hiring manager negative feedback after the interview?
Many recruiters struggle with hiring managers because they have tight schedules and often do not prioritise recruitment. They also don't have the same training as recruiters and are not as experienced in interviewing. This might lead to some issues and the need to give constructive feedback to the hiring managers.
Inge says that you need to be flexible and know how to approach the person. Some people don't take criticism very well. You need to explain that you are giving feedback to improve the process and be straightforward, not emotional, in sharing this feedback.
When giving feedback, take into account that hiring managers do not need to be experts at interviewing.
The better the hiring manager understands the process and the role you are recruiting for, the more open they are to feedback.
The importance of body language and tone of voice
In addition to the verbal responses you get during interviews, body language and tone of voice give additional responses and affect your decision-making process.
We have all seen candidates who are nervous before their interviews and who are worried that the recruiter is only going to remember what they spoke about. Recruiters notice body language and different signs in addition to the responses.
Social psychologist Professor Albert Mehrabian from the Univesity of Los Angeles argued that:
7% of communication occurred via spoken word
38% through tone of voice
55% through body language
This communication goes both ways. The candidates also read the interviewers' body language and tone of voice.
For this reason, Laura does her screening calls camera-off. She believes that she is good at reading tone of voice. She believes that in the Internet era it makes her approach to interviews more relaxed. Sitting on Zoom for seven hours is exhausting. Having the camera off allows her to showcase the same level of interest. She doesn't have to sit in a forced position, and neither does the candidate, helping them feel more relaxed.
For the later stage interviews, it makes sense to have the camera on.
Online interviews actually allow us to notice more signs than in-person interviews. That being said, being nervous is completely normal and shouldn't affect the decision.
In conclusion
Hopefully, you found some good tips and tricks to add to your interviewing process.
This is a recap post of Teamdash's (formerly RecruitLab) webinar recorded in November 2022.