As recruitment becomes increasingly data-driven and strategic, recruiters must upskill their own knowledge and expertise to offer value to their clients. Strategic workforce planning is a vital area to understand, and in this blog post, we will look at everything to do with strategic workforce planning, what it is, why it matters, and how it can be carried out for the best results.
Strategic workforce planning
In today's changing business climate, organisations use strategic workforce planning to ensure their business strategy and workforce align for the best possible results. This involves analysing the forces of supply and demand when it comes to the workforce and recruitment and then adjusting what the business does to meet its goals and needs.
What is workforce planning?
At its heart, modern strategic workforce planning means leveraging the power of data and technology to align the organisation's key resource; its people – with its intended strategic goals and plans. By using workforce planning, organisations can set themselves up for success by giving HR the insight it needs to make smart decisions about business talent needs, including strategic hiring and technology implementation (such as AI).
The process involves looking at workforce supply and demand and carrying out analysis, forecasting and planning. The end goal is to get the right people with the right skills in the business, at the right time and in the right locations, to deliver the strategic plan and drive the organisation's success. Essentially, workforce planning recognises that business strategies can only be successful with the right people in place to deliver them.
Why is workforce planning important for your company?
When it's done well, workforce planning ensures businesses have enough of the right staff. Without this strategic approach, organisations can become either overstaffed (and struggling to meet the payroll bill) or understaffed (and struggling to meet client needs.) Workforce planning is a tool that lets decision-makers rightsize the business in a way that meets business goals and strategic plans without creating a large and unnecessary overhead for payroll.
What are the benefits of workforce planning
Some of the main benefits of having an effective workforce planning process include:
Bringing the strategic plan to life by creating a road map that explains how it will be achieved. This is because the workforce plan aligns the supply and demand of talent with the business's strategy to make it a reality.
Preparing for future needs by bringing a longer-term view on board with respect to labour market trends, job streamlining, the use of AI, flexible workers and other staffing solutions.
The change to find efficiency opportunities and staffing gaps- which can then be assessed and corrected.
Generating data that supports better HR decision-making rather than knee-jerk or impulse decisions.
Making succession planning easier.
Reducing turnover with better retention, as employees are well-used, developed and not over-stretched when a strategic plan is in place.
Who should be in charge of strategic workforce planning?
Every organisation will have its own approach to strategic workforce planning. In some businesses, it's a C-suite activity, and in others, it's led by HR. Generally speaking, a lot of people will have input into this strategic process, including hiring managers, people managers, and possibly recruiting partners. It will be generally driven by HR as part of strategic HR planning.
Workforce planning process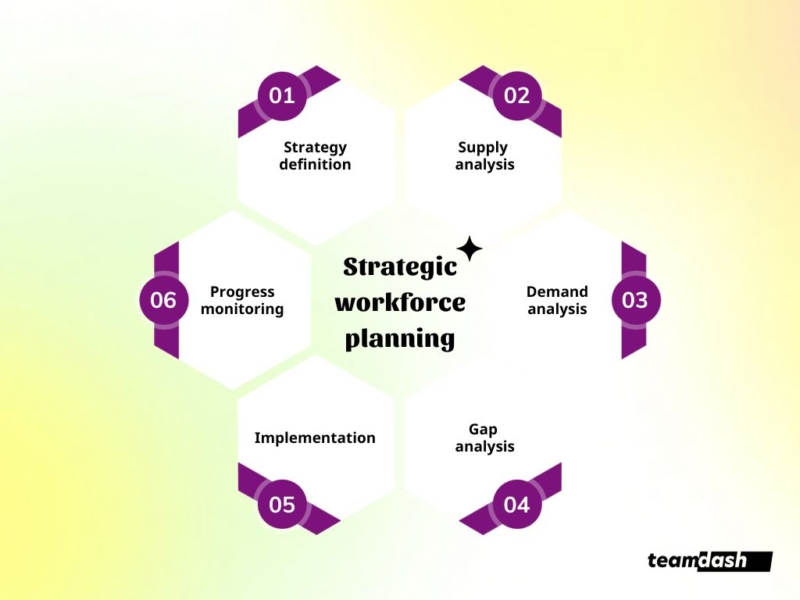 1. Define the organisation strategy
The organisational strategy is the starting point for all workforce planning as it will drive the staffing needs to deliver the strategy's projects, goals and outcomes. The business plan will be an output of the strategy, which usually has a 3-5 year timespan. The business plan will usually be for the coming financial year but may be longer. A workforce strategy may also have a 3-5-year timespan that matches the business strategy.
2. Assess your existing workforce supply
In this phase, you look at your existing talent pool within the business, factoring in existing employees and potential candidates within any talent pool process you nurture or within the recruitment pipeline. You can map the numbers against defined skills, competencies and qualifications to create a richer picture of your employee skills base. You can use skills gap analysis to pinpoint the skills that you need now and in the future.
3. Assess the demand
Look at how many employees will be needed to achieve the business's current needs and to then achieve its strategic plans. This is your workforce demand.
4. Analyse gaps between the supply and demand
At this point, you have the supply and demand data needed to consider your workforce against your strategic plans. If you see gaps between them, you can look for ways to close them. For example, if your business is moving into a high-tech digital product field, you may see from your supply plan that you don't have enough existing employees with the necessary skills to lead the development and marketing of this product. You can then plan a training budget, hire people with those skills or look at flexible staffing.
On the other side of the coin, you may see from your supply plan that you have too many employees in a customer service role at a time when you are implementing AI and no longer need this full headcount. You can then plan ahead to reskill existing employees and move them into other areas or consider whether programmes to reduce headcount will be necessary.
5. Put the plan in place
This is the stage where the data translates into action! You might hire new skilled staff, work with a recruitment agency to bring temps on board, consider using contractors or use technology in some areas to replace or augment human skills. You might also look at consolidating certain teams or outsourcing functions. Plenty of options exist when a business has the necessary data and insights to make confident decisions.
6. Measure progress
Once you've made the necessary adjustments to the workforce, continue to measure the results of these strategic actions to make sure they are having the desired effects.
What tools can help you with your strategic workforce planning
A variety of tools and technologies exist to make the strategic workforce planning process. These include:
Strategic workforce planning map
This map shows how this activity aligns with organisational strategy and is the process's core document. Most businesses will now use software that makes the creation of workforce planning maps far easier, with interactive documentation and templates that the business can populate, update and interrogate.
9-Box Grid
This is also called an HR3P matrix, and it maps the performance and potential of each employee in a single model, assessing every level from 'talent risk' to 'shining stars'.
HR dashboarding
Many businesses are using dashboards as part of their commitment to strategic HR. These instruments are a great way to provide rich data about the workforce in real-time, with information from HR databases such as the ATS, payroll, training records, etc.
Compensation & benefit analysis
This tool can also feed into workforce planning analysis because it allows businesses to map their workforce and its skills and performance against the cost of payroll.
Scenario planning
This vital business tool lets businesses model different scenarios and plan how they would respond to them. These challenge scenarios could be anything from new product introductions to climate change. By identifying these risks, the business can build contingency plans.
ATS systems and recruitment software
Applicant tracking systems also feed into the workforce planning process by showing where talent is in the recruitment process. Teamdash is a highly customisable recruitment software that businesses are using to unlock powerful insights and value into their recruitment, with rich features such as interview scheduling, asynchronous video interviews, social media recruitment tools, etc.
Conclusion
Workforce planning is a powerful strategic tool that is also surprisingly easy to implement as a framework. Its power lies in providing the necessary framework for robust workforce analysis and generating valuable data that supports business decision-making to support strategic goals. For a surprisingly simple framework, it can yield extremely powerful results and help organisations position themselves to achieve their strategies.
For recruiters, it offers a way to provide extra value to clients by offering the services that help them rightsize their workforce, whether from temporary staffing to skilled contractor hiring or through targeted recruitment and executive search. Today's recruiters must be smart and strategic to demonstrate value, and understanding frameworks such as workforce planning is a highly relevant way of demonstrating this value to client businesses.