Looking for a way to boost your value as a recruiter? Immerse yourself in modern strategic HR so you can advise and support your clients as they move towards more data-driven, intelligent workforce models that allow them to meet their business strategies! Recently, we looked at RPOs and covered what they were in a deep-dive, so today, we're going to look specifically at the differences between an RPO vs. agency models and the instances in which a client business might choose one over the other.
What is an RPO?
What are the differences between RPO vs. agency models? Firstly, let's look at RPO or recruitment process outsourcers. RPOs take full control of their clients' recruitment cycles, managing each stage and taking ownership of it. They integrate fully with their client business and provide strategic guidance and support. They effectively act as the client business's in-house team.
What is a Recruitment Agency?
A recruitment agency works to place people into jobs, commonly for temporary positions or where specialist roles are needed. There are different agencies that specialise in different types of recruitment (such as executive search) or recruitment for particular industries. Recruitment agencies are also known as temporary placement agencies, staffing agencies and contingency agencies.
Differences between an RPO and a Recruitment Agency
So when weighing up the differences between RPO and agency models, these are some of the main considerations to know:
1. Focus of services
Recruitment agencies offer bulk or volume staffing as the mainstay of their work. They usually get paid to place and will seek to find a hire quickly. They are often paid on a per-placement arrangement, and will usually have candidates in their own sales funnel looking immediately for work. Most recruitment agencies can fill a job placement within several days or a week for a temporary role and their value lies primarily in their speed.
Recruitment Process Outsourcing (RPO) providers handle every stage of a client's recruitment process and act as a partner of extension of the client brand to deliver it. They will manage each step of the process including sourcing, interviewing, background checking, advertising and employer branding to take control of the recruitment cycle from start to finish.
2. Exclusivity
Recruitment agencies will work for a large variety of clients seeking to fill their open vacancies on a fast and rolling basis. An RPO, in contrast, may only work for a small number of clients because they offer a more involved service as an extension of that client's employer brand.
3. Timescales
RPOs have long-term timeframes in mind because they are involved with their client's strategy and tasked with providing a full recruitment function for that business for a period of time that will align with the business strategy (usually 3-5 years.) Recruitment agencies work for many clients and chase a flow of business, so they work on a project or hire-by-hire basis.
4. Cost
RPO services invariably cost more because they are so much more involved. They are usually paid upfront. Recruitment agencies are usually paid after the candidate is successfully placed into the role, and – often – once they have been in the role for an agreed period of time to ensure the quality of the placement match.
5. Reactivity vs Proactivity
Recruitment agencies tend to work on a reactive basis, looking for candidates to fill their client's needs quickly. RPOs are more proactive because they are involved in their client business and will invest heavily to understand the client's strategy and workplace culture to support a recruitment strategy.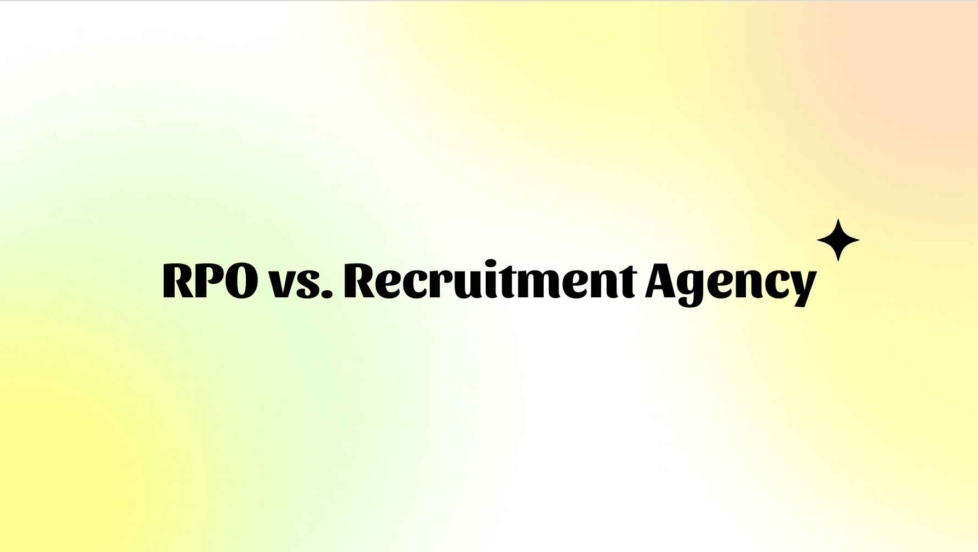 What to choose between an RPO and a Recruitment Agency
Many businesses will use recruitment agencies and RPOs at different times. The two models are there to support client businesses in different ways and with different needs.
A good starting point is to see what your business budget is, what your objectives are and what success will look like in terms of what you measure. This is a starting point to understand what you're trying to get from external support, and it will guide the right decision for you.
For example, the recruitment agency might be great for you if you tend to recruit at low volumes and on a one-off basis. This also applies if you are struggling to fill a certain role because there will be an agency that focuses on this area. This arrangement is also great for short-term projects, contract roles and temporary roles where speed is of the essence.
However, if you are looking to invest in a long-term recruitment partnership that supports your strategic hiring plans, then an RPO might be the more appropriate model to integrate with your business and become an extension of your HR team. You will be investing in an RPO that offers credibility, flexibility and trust, as this partner will work on various recruitment campaigns over time and manage the process for you. The model is particularly useful for fast-growing businesses or those businesses that are seeking to implement significant change programmes. The investment can be significant, so it's vital to find an RPO that aligns with your business values and working culture and can make a genuine impact on your strategy and bottom line.
Find out more
Teamdash is a powerful recruitment software offering applicant tracking system functionality designed for clients who want more from their recruitment. Packed with valuable features such as interview scheduling, asynchronous video interviews and social media recruitment tools, Teamdash supports your strategic HR efforts and enables better recruitment outcomes. Contact us to find out more – book a demo or start a free trial.