We surveyed 150 recruiters as a part of our "How to avoid recruiter burnout. Effective time management for recruiters" webinar registration. The results reflect the same picture that has been drawn by multiple international reports published in 2023:
40% of the respondents said they had experienced burnout in the past year.
26% of the respondents have not experienced burnout in the past year.
24% of the respondents are not sure whether they have experienced burnout.
We have asked help from Tiina Saar-Veelmaa to turn these statistics around and help us be proactive about our mental health.
Tiina is a psychologist, trainer, lecturer, and therapist with a focus on workplace happiness. She is the co-founder of HappyMe and has been researching and advocating workplace happiness since 2001 and has trained hundreds of employers, thousands of workers and job seekers on workplace happiness over two decades.
Tiina likes to introduce herself as a work happiness advocate. She has been researching and working in the field for more than twenty years. Sometimes, people are surprised about that title and wonder what it is and how to measure it – that's why she is raising awareness through her work and is the author of seven books.
In addition to talking about what workplace happiness is, she will talk more about the concepts of burnout and 'boreout', and explain the symptoms and consequences of both. Tiina will address the specific challenges that recruiters face and how to approach them with the work values framework and the job crafting method. Lastly, she will introduce various techniques from all over the world that help tackle these problems proactively.
The origin of work
We are used to the concept of work – most people work 8 hours a day, five days a week, sometimes even longer hours and days. The words "work" and "labour" are actually rooted in the word "slavery" in most languages.
Of course, we don't want to be slaves to our work, but it is easy to see why some people fall into that pit – we have demands that are increasingly higher, we are looking for ways to increase our efficiency, and also, we set higher expectations to ourselves as well. That means that you wake up in the morning and already have a task list you own and must complete. You don't feel free, and it creates a certain level of anxiety. Does that sound familiar?
Work-life in 2023: Career without borders
Scientists have put the future of work into focus, and it also involves building a career around each person's lifestyle.
We wish that our career would be more tailored for us. We want to be happy, and we can't be happy when we don't have the level of work-life balance we need. The concept of having a career without borders was already introduced over a decade ago and has been developed since then. We have come a long way but still have a long way to go!
The rise of the relatable organisation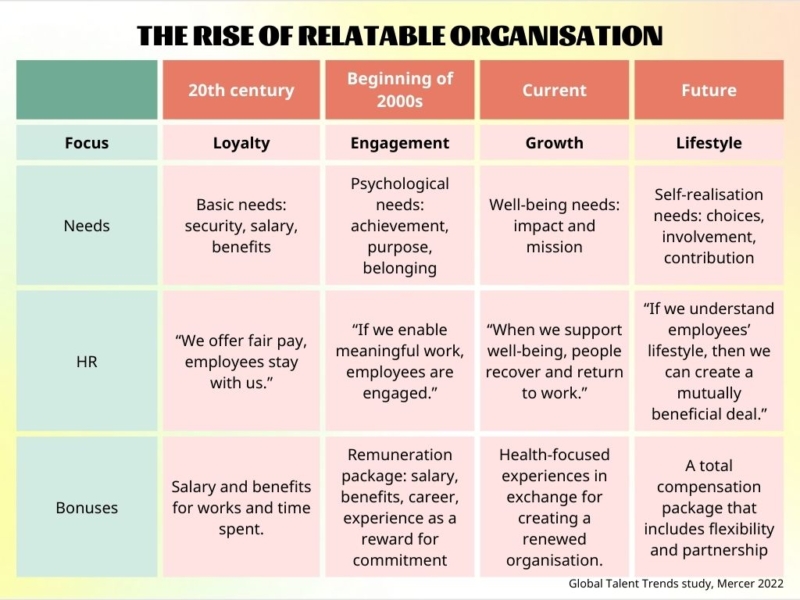 We live in a VUCA world – VUCA stands for volatility, uncertainty, complexity, and ambiguity. We need to achieve balance in this world in order to achieve work happiness and grow in this environment. It describes the situation of constant, unpredictable change that is now the norm in certain industries and areas of the business world. VUCA demands that you avoid traditional, outdated approaches to management and leadership and day-to-day working.
Human-centric culture
The new lifestyle-oriented organisation culture brings up new challenges for companies and HR professionals – everything cannot be put into a box or viewed as systematically as some managers and leaders have tried to do before.
A study shows that people no longer want to work for a company; they want to work with one. Nearly all executives (96%) say we are in an employee-centric labour market, and 70% of HR professionals predict higher-than-normal turnover this year. – Mercer, Global Talent Trends, 2022.
Employees have new expectations for work; they want to have part-time jobs with more flexibility and kaleidoscope careers where they can do many different tasks.
How to measure work happiness? Work values concept
We have measured job satisfaction in the past. However, job satisfaction is an old concept that doesn't provide many insights or hints on what to do or change.
Well-being is a better thing to measure as it can provide valuable insights. Well-being consists of 3 components – psychological, physical and social. If you have all three, you can say that we are happy and we are flourishing. It influences our performance.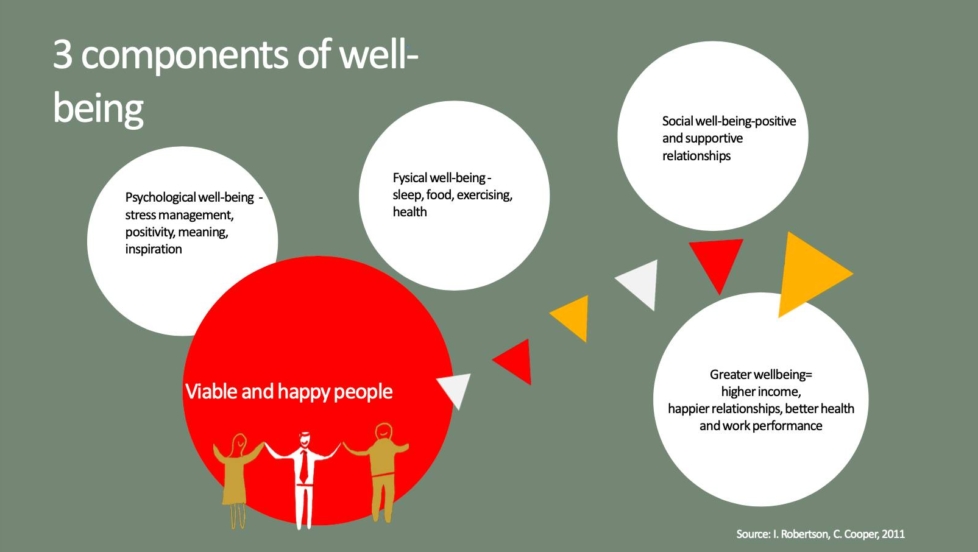 We also need to see the results. It is built into the human DNA. Already in the Stone Age, when hunters caught a mammoth – they got a tangible reward, which resulted in the production of dopamine, endorphin and serotonin – the happiness hormones.
We need to feel this at work as well. You get the reward or recognition and can also sense that you can be yourself and have autonomy.
At HappyMe, Tiina's work happiness startup, they use the work values concept where there are ten different values.
Look at the list and ask yourself: What are my TOP 3 values?
Work values are:
Relationship
Recognition
Contribution
Suitability
Flexibility
Learning
Responsibility
Innovations
Security
Location
Now, you can ask yourself the second question – how satisfied are you with those values in your current position?
Score your TOP3 values on a scale of 10 (0 – not satisfied; 10 – extremely satisfied). If your score is lower than 5, you can predict burnout or frustration that affects your work happiness and performance.
According to the World Health Organisation, occupational burnout is a phenomenon resulting from chronic work stress, the symptoms of which are exhaustion, increased mental distance from work, feelings of negativism or cynicism, decreased empathy for colleagues, and decreased work efficiency. As of 2017, nine European countries (including Estonia) legally recognise burnout syndrome as an occupational disease, paying compensation for it when diagnosed.
What is 'boreout'?
Job boredom or 'boreout' refers to a state of unpleasant passiveness in which employees lack interest in their work activities and have difficulties concentrating on them. Studies on boredom at work have increased in volume over the past decade. Boredom is now recognised as employee ill-being.
We feel like we have a lack of interesting tasks, and there are too many repetitive tasks that an employee has to perform.
It was first written about in 2007 by Swiss business consultants Peter Werder and Philippe Rothlin in the book "Diagnose Boreout". According to a British study, "Bored to death", workers who are bored are up to three times more likely to be at risk of cardiovascular disease than those whose work is simulating.
In the 2018 book titled "Bullshit Jobs", anthropologist David Graeber published a list of meaningless jobs and analyses their societal harm. Graeber claims that more than half of the jobs today are meaningless, reducing workers' self-worth. These are jobs where it is difficult to perceive the value created. These jobs include assistants, controllers, secretaries, managers, sales representatives, influencers, marketers, etc.
The main problem for many employees is the lack of meaningful tasks. An employer who does not know how to identify this problem contributes to the fact that the employee does not realise his true potential and skills, thereby reducing his competitiveness in the labour market and creating social risks. A bored employee's self-esteem becomes low, he cannot talk about the situation with his superiors or even look for a new job – Peter Werder and Philippe Rothlin.
Challenges for recruiters
Pressing deadlines
Negative feedback from candidates, hiring managers, clients
Unexpected situations
Conflicting demands
Work overload
Boreout syndrome – bureaucracy, procedures, no software
Both burnout and 'boreout' cause symptoms ranging from insomnia to upset stomachs and headaches that lead to additional health problems. Work fatigue is often "relieved" with addictions such as alcohol, drugs, etc. Workplace bullying and lack of empathy towards colleagues are some of the most common consequences.
What are the first steps for preventing burnout and 'boreout'?
Take a piece of paper and divide it into 2 – list tasks you want to do and tasks you must do. Which do you have more?
It helps you get a bird ' s-eye view of where you currently stand and the first understanding of the load on your mental health.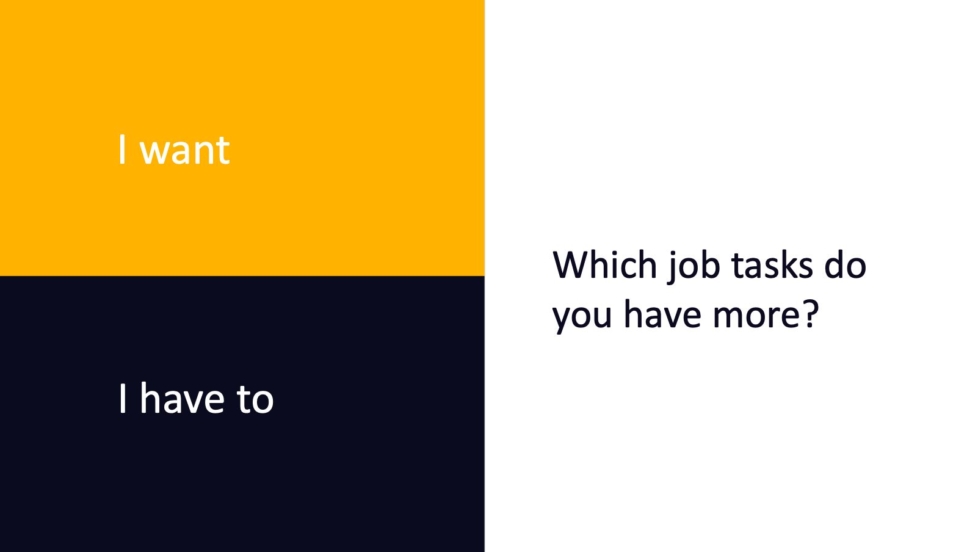 How to prevent job boredom? Job crafting method
Categorise your tasks into three categories:
Tasks you really enjoy
Tasks which are normal/okay
Tasks which disturb you
Now, ask three questions about the tasks that disturb you that you don't like doing:
What happens if I don't do the tasks that disturb you?
Can someone else do it? Can I delegate it?
How to do it smarter?
Although well-being at work has been considered decent working conditions created by the organisation, people can make changes at work on their own initiative. In other words, shape their work, both in terms of workload, emotional climate, work content and environment, in order to reduce the negative impact. – Jari J. Hakanen, Piia Seppälä and Maria C. W. Peeters
Rituals for work
You can also tackle burnout, boreout, and work stress together with your colleagues. You can hold workshops together as a team and figure out what could be changed in the workplace to improve work happiness.
You can also brainstorm on ways to be more connected or give more open feedback, share experiences and give recognition. For example, one team hosted so-called "Fuckup Fridays" once a month, where people shared their failures or mistakes and celebrated them together as a team.
You can also figure out ways to mentor each other for eating healthier, sleeping better or exercising more. You should also think about how to hold each other accountable for taking care of yourself and others – and how you check up on each other. These can be having breaks together, small gatherings, weekly roundups, etc.
12 steps to happiness
Here is a list of proven steps that increase happiness, both at work and in your personal lives:
Gratitude
Sharing
Helping or getting help
Healthy food
Exercise
Sleep
Fresh air
Experiences
Socialising
Meditation
Purpose
Smiling

Well-being techniques from around the world
Utsuwa
The Japanese have the term utsuwa, which means a vessel shaped like a curved palm. It also means humility and gratitude. If a person is generous and openhearted, they have a large utsuwa, but if they are prone to pettiness and vindictiveness, they have a small utsuwa. In order to work well with people, we need to keep our utsuwa open and large. We can't be kind to others with our utsuwa is empty.
Hygge
The Danish concept of cosiness – your workplace also has to be cosy for you to work well.
Ikigai
Ikigai is a well-known Japanese concept referring to something that gives a person a sense of purpose, a reason for living. Whatever you do in life should all be driven by your ikigai. Karoshi, which can be translated into "overwork death", is a Japanese term relating to occupation-related sudden death. Studies have shown that people who do not feel ikigai are more likely to experience cardiovascular diseases and are, therefore, more prone to karoshi.
Fika
The Swedish concept of having coffee breaks with a little something to eat with others. It is very important that you shouldn't talk about work during these breaks.
Pyt
The Danish concept of not worrying about something or letting it go. Pyt is usually expressed as an interjection in reaction to a daily hassle, frustration or mistake. It most closely translates to the English sayings, "Don't worry about it," "stuff happens" or "oh, well."
Well-being creates better people
Here's how well-being contributes to becoming a better person:
Better biochemistry and a strong immune system
Excellent coping with complex tasks
Better memory and attention
Positive self-awareness
Sense of happiness
Supportive attitude
Lower stress level
Idea creation
Good health
Creativity
Flexibility
How healthy is your relationship with work?
We asked the participants to describe their relationship with work – 50% said that their relationship is "okay", 42% said it is "healthy" and 8% said that it is "unhealthy".
How to improve the relationship with work so it's better than "okay"?
Sometimes, people aren't aware of how unhealthy their relationship with work is and how they are actually overloaded with tasks. Indications of this can differ for people, but common indicators would be skipping lunches or not taking any breaks during the day (doing everything on the go).
You should start with basic things – having proper sleep, starting the day with positive news, having a healthy breakfast, etc. You should automate repetitive tasks that take up your time and frustrate you at home and work. That frees up time to deal with meaningful tasks and activities. That also leaves more time to try new things and learn new things, and that gives your mental well-being an additional boost.
How can recruitment software help you?
Book a free product tour with one of our consultants and see how you can reduce the list of tasks and activities that don't contribute to your happiness.
Want to see and hear the webinar in full? Watch the recording here.
Sign up for the newsletter below so you won't miss any upcoming webinars, workshops or fresh resources! 👇