RecruitLab's platform is already used in six countries by companies like KPMG and DPD

The funds will be used to triple the workforce and add functionality to the platform

Offering the recruitment tool at a price accessible to everyone, the company targets an underserviced segment of the market – recruiters at SMEs and small recruitment agencies
RecruitLab, a recruitment software provider, announces the closure of its €1.9 million Seed round. The round was led by Change Ventures, a Baltic market specialist that only invests in globally scalable businesses. The round also included StartupIst VC, FFF.vc and the BADideas.fund, an early-stage angel syndicate led by founders and operators of companies like Bolt, Vimeo, Shopify, Printify, Pipedrive, Deel, Bird etc.RecruitLab offers its clientele a video-recruitment platform that helps streamline and automate their recruitment processes, handle many more candidates while reducing hiring time by 50%, and improve the overall candidate experience. The Company has paying clients across the UK, Germany, Finland, Estonia, Latvia and Lithuania, including internationally known brands like DPD, Circle K, Tallink and KPMG.
RecruitLab provides an alternative to the incumbent Applicant Tracking Systems (ATS) players, like Workable, Bullhorn, Taleo, Lever and Greenhouse, amongst others. These systems are built for large enterprises with thousands of employees and come with a high cost of subscription, implementation and maintenance. RecruitLab's platform provides the same ATS functionality in addition to recruitment marketing, social media, candidate experience, and asynchronous video recruitment tools – automating the entire recruitment process at a price point that every company can afford. RecruitLab targets the underserved segment of the market – recruiters at SMEs and small recruitment agencies who require aplug-and-play solution.
Paavo Heil, the founder and CEO of RecruitLab, said: "RecruitLab is arming SMEs with the tools that previously, only the big enterprises could afford. By using our platform, clients save on average 50% of time spent on every recruitment project and make up their return on investment within the first month. It's easy to use and deploy; without having to be a specialist, users can intuitively set up automation tools without external help. Surprisingly – despite the ever-increasing workflow of recruitment teams, it is estimated that around 50% of employers still use programs like Excel and Outlook to track applicants. Furthermore, most of the existing ATS are inflexible, underperform when it comes to customer support and struggle to keep up with the rapidly changing industry."
Recruitment has changed a lot in recent years, but existing tools haven't. The Covid-19 pandemic brought on the 'Great Resignation' – an ongoing economic trend where employees are quitting their jobs at historic rates due to wage stagnation and the rapidly rising cost of living, job dissatisfaction and the desire to work for companies with more flexible working policies.
Responses to the recruiter's job ads may vary from zero to hundreds of applicants. Under the first scenario – recruiters need to undertake additional activities to attract the attention of desired candidates, whilst when dealing with a high volume of responses, every applicant's qualifications need assessment. All prospective candidates expect prompt and transparent communication throughout the hiring process. As a result, the workload of recruiters has dramatically increased whilst the average employee's life cycle in companies is getting shorter.
Epp Sillaste, Head of People at KPMG Baltics, commented: "We chose RecruitLab as were on the hunt for a video interviewing tool also featuring other essential recruiting tools such as interview planning, talent pool capability mapping, automating interview scheduling and feedback e-mails, and easy access to necessary recruitment statistics for labour intensive recruitment projects. In addition to saving time – we've found that the platform is easy to use and does not require extra training."
RecruitLab's platform has proven to bring the most value to HR teams or recruiters, eradicating the small arduous tasks that take up most of the time. The Company's proprietary video interview platform simplifies and speeds up the pre-screening process of candidates through its asynchronous interviews function. The fully GDPR-compliant platform optimises candidate management, tracks progress and provides insight into project statistics, automates interview scheduling and feedback e-mails, integrates with recruitment channels, and creates professional job advertisements in minutes, including for social media.
Yrjö Ojasaar, an Investment Partner at Change Ventures, said: "We were tremendously impressed by the stellar feedback from RecruitLab clients – who compared the platform with enterprise-level Applicant Tracking System tools, specifically tailored in functionality and pricing for SMEs. For the first time, they can now level the playing field in recruiting top talent."
The funds will be used for expansion to the UK and other European markets, tripling the Company's workforce and adding new functionality to its platform, enabling recruiters to benchmark their activities and results against similar recruitment professionals. With RecruitLab tools, recruiters get actionable insights that will improve recruiters performance, reduce spending, and gain data on which recruitment platforms are the most effective for sourcing specific candidates for a particular position(s).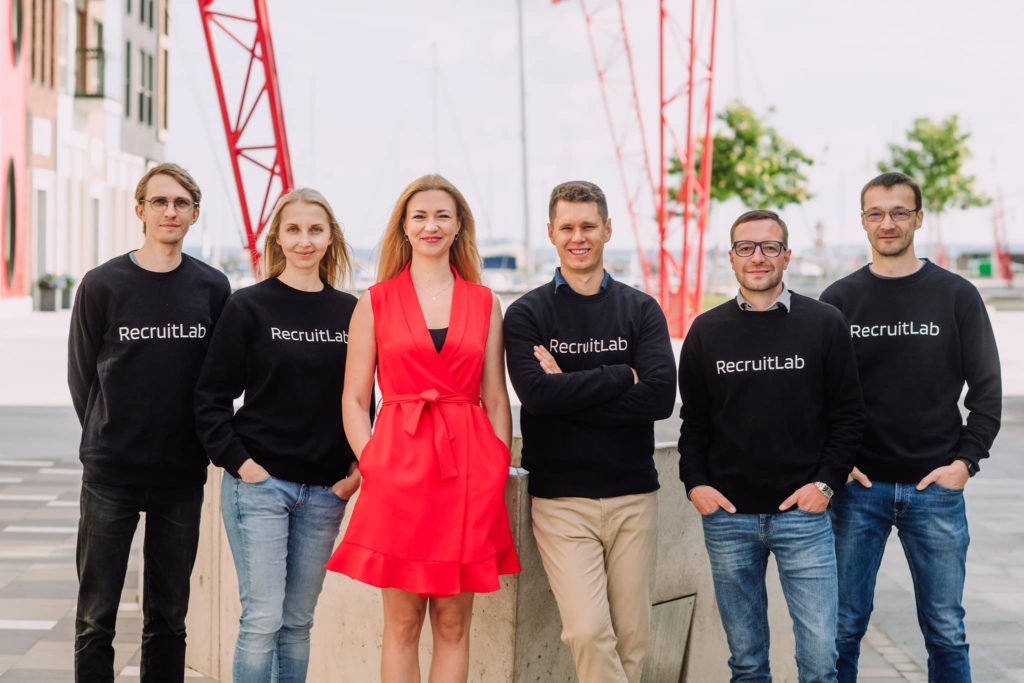 About Recruitlab
RecruitLab is founded by recruiters for recruiters – its fully GDPR-compliant applicant tracking, recruitment marketing and video interviewing platform optimises candidate management and automates the recruitment process for HR professionals. The intuitive easy-to-use platform saves on average 50% of time spent on hiring projects by automating small arduous tasks and companies make back their return on investment within the first month. RecruitLab is currently active in 6 countries and has raised €2.2m to date. RecruitLab's investors include the largest pan-Baltic seed fund Change Ventures, Superangel, StartupIstanbul, FFF.vc and the Badideas.fund, an early-stage angel syndicate led by founders and operators of companies like Bolt, Vimeo, Shopify, Printify, Pipedrive, Deel and Bird, amongst others.