KPMG and Teamdash case study
KPMG was faced with a challenge of how to hire junior auditors with a smaller recruitment team in a shorter time frame. They decided to redesign their recruitment process by including asynchronous video interviews and Epp Sillaste, the HR manager in Estonia, has now shared the new experience.
Who is a fit to become a junior auditor?
Every year we hire several new junior auditors with no previous working experience. The suitable candidate has a degree preferably in economics or is in the final year of their studies. We best match with applicants who are keen on numbers and friends with Excel. And good skills in Estonian and English are a must have, being fluent in Russian is recommended. So these are the three main criterias from where we go on.
Why did you decide to try out asynchronous video interviews?
We decided for asynchronous video interviews because the junior auditor position always gives us a very high volume of applicants and we need to hire 10-12 new people at once.
One very important aspect that favored this decision was that the hiring managers often struggled to remember all the applicants by the final stages.
Our recruitment process consists of many stages and by the time we are ready to hold a final meeting with our team on who to hire, there is quite a confusion on who is who.
Another reason to go along with asynchronous video interviews came to us quite suddenly. One of our recruiters fell ill and since we have a very small team, we needed to figure out how to make the whole process more effective and less time consuming.
So instead of holding 30-minute meetings with 40 people, we watched 2-minute recorded video answers by 40 applicants.
In what stage did you send out invites to asynchronous video interviews?
After receiving the initial CVs we made a first selection to whom we sent out video greetings. I must admit we were thrilled to discover Teamdash's features and we decided that if we have an expectation for the candidates to record themselves on video, we should do no less.
So in that first video greeting I introduced KPMG as an employer, gave my thanks for applying and gave insights on how we proceed with the selection and what to expect from our next stage of doing a test. After the test we used asynchronous video interviews.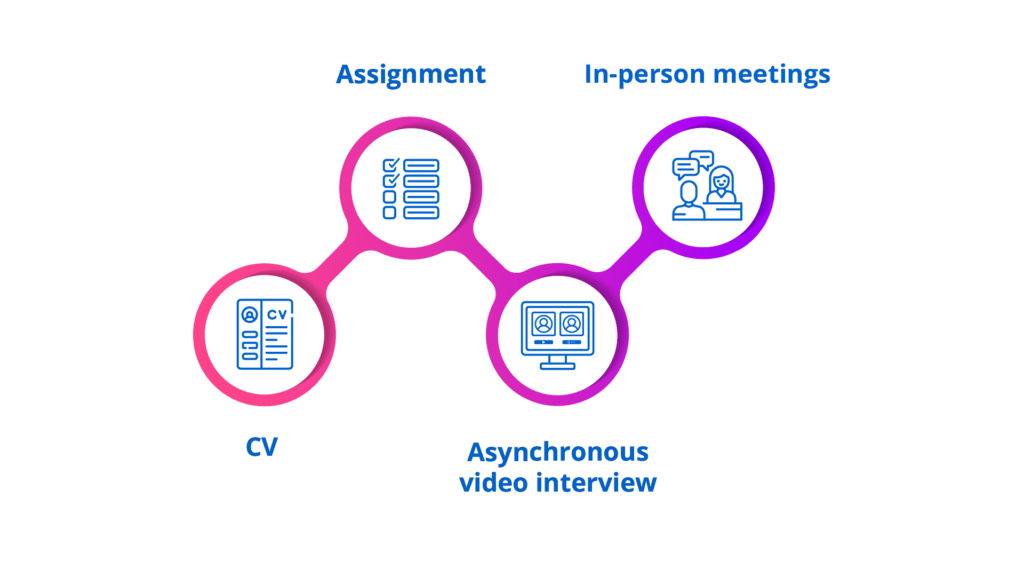 How many questions did you send? Did you set any limitations for the applicants?
We sent out 2 questions to 50 applicants:
why did you decide to apply?
why do you think you would be the best fit for this position?
The questions were delivered by our hiring manager. We did not set a time limit but the average length of the recorded answer was around 1-2 minute. And we did not put a limit on attempts to save the answer. But it was quite interesting to later see the statistics from Teamdash on how many tries did someone take until confirming a recording.
What was your goal on what to assess through asynchronous video interviews?
When giving a question to the applicant we gave assurance that there are no right or wrong answers. Our wish was to see the person behind the CV, how is the self-presentation, use of language, answering manner, what values the candidate represents. We didn't add many questions because we knew we were going to have more in-depth interviews ahead in the next stage.
Did you receive any feedback from candidates?
Yes, we did and it was quite exciting. For many applicants, this was the first time to apply via asynchronous video interviews or even a first experience in general to apply for a job.
We were appreciated for giving out questions as a video as well. It gave a safe feeling and a better concept of how this works and who exactly will be assessing the answers.
We were prepared on how to handle a situation when an applicant refuses from filming itself, but would wish to proceed with applying. But we didn't get any such response. In total we received 40 replied video interviews which totally satisfied our needs for filling in positions.
Video recruitment is here to stay
Try it FREE to see how easy it is to conduct asynchronous video interviews and speed up the preselection process!
30-day free trial. Start hiring in minutes!
No credit card required, no software to install
Access to all the features of Teamdash Professional plan
Fast and friendly customer support
How do you feel, what positions would benefit the most using asynchronous video interviews?
I must admit not all our team members were abroad with the idea from the start. We had one skeptic who feared the asynchronous video interviews would scare off potentially good candidates. But we decided to try, how else will we ever know?
I'd certainly recommend using them with projects you know will bring you more candidates than average. And maybe prefer a position you know will bring you younger applicants who might be more open to technical solutions and opportunities.
Recruiters often refer to the collaboration with hiring managers as a challenge. How did you engage your team members into the process?
Actually they were pretty hands-on from the beginning. Even when discussing how to set up the recruitment process and what methods to put in use for this project.
But the most intense involvement began with group tasks and the last interview. Assessing the CVs, home tasks and asynchronous video answers was mainly left for the HR team.
If we later happened to have a discussion with whom to proceed, the video answers were often re-played to remind certain candidates to all team members.
What would you do differently next time when using asynchronous video interviews?
Maybe I'd try setting time limits for answers. To see whether it would make assessing easier or speed up our workflow. I'd definitely like to try them out on a different profile too and maybe on an earlier stage as well, for example before the home assignment.
How much time did you save using asynchronous video interviews?
The time saved was remarkable. Instead of holding 30-minute meetings with 40 people, we watched 2-minute recorded video answers by 40 applicants.
In addition we saved a lot of time from trying to remember all candidates by heart. We could quickly run over the video and be back on track. And equally important was the satisfaction of hiring managers with the whole process.
How do you achieve your team having balance between automation and human contact in your recruitment process?
Surely you'd have to think through who you are looking for and how many would you possibly find. Probably a combination of different methods will benefit the most. It's always important to consider the applicant's view – how would you feel when put into this situation? Through this projection we decided to give our questions in the video too.
We do not wish to be this international corporation with a 100% automated process sending out links. We wanted to show ourselves, put in extra effort to make a difference. The human aspect should be considered in every stage.
Book a demo to see how Teamdash's video recruitment solutions help you get better results. Within the 30-minute call you will get:
an overview of Teamdash's video recruitment tools
insights into the best video recruitment practices
tips & tricks for your recruitment processes