Video interviews aren't anything new in recruitment. For example, you will find video interviews listed among the top 5 most useful interviewing innovations in LinkedIn Global Recruiting Trends already in 2018. And this was not the first time video interviews were brought to our attention.
Last year, they allowed us to continue to recruit during the pandemic.
And by now, we've realised using video interviews saves time and eventually brings better results in the overall recruitment process.
Why especially have asynchronous video interviews won the hearts of the recruiters, and why should they be part of your recruitment process?
What happened to video interviews in 2020?
Before 2020, video interviewing was considered innovative and effective. Still, many companies weren't implementing them in their recruitment processes because there were common fears.
Some of these common fears about video interviewing were that it's difficult to find a suitable technical tool for it, implementing will be too time-consuming,it takes too much energy from recruiters to learn all the technical nuances. There was a lack of knowledge of how candidates would take them.
It is noteworthy how 2020 pushed us to take advantage of video interviewing and to face our fears that weren't rational.
In 2020, video interviewing was the only option to proceed with recruitment, and according to TalentBoard's Candidate Experience Report 2020, video interviews climbed by 129% in EMEA.
Now companies are both noting and embracing the cost and time savings this change has brought with it.
According to LinkedIn, 81% of talent professionals agree that virtual recruiting will continue post-COVID, and 70% say even that virtual recruiting will become the new standard.
What types of video solutions are there?
In recruitment, video interviews can be divided into two categories: synchronous and asynchronous videos.
Synchronous video interviews or live video interviews replace the traditional job interviews at the office, be the reason either the pandemic, the candidate residing in another country, or something else.
Overall, it is a video interview where several participants from the employer side can participate and eventually make their final choice based on the interview.
Asynchronous video interviews (also known as one-way or on-demand video interviews) are used to simplify and speed up the candidate's pre-selection and avoid any errors in the CV-based evaluation.
It is not a video interview where both parties participate simultaneously but exchange information that happens with a time shift.
What are asynchronous video interviews, and why have they become so popular?
An asynchronous video interview is a format where the recruiter sends certain questions either to all or specifically chosen candidates.
Usually, the recruiter chooses two to three questions and asks them in writing or via video. Candidates can reply through the video at whichever time is most convenient for them.
One of the main reasons asynchronous videos are becoming more popular is their time-saving benefit. It can reach up to twenty hours which shortens the whole process by an entire week or two.
Second, using asynchronous videos has been made so simple in different recruitment software that it's as easy as emailing.
Third, recruiters point out that managers have engaged more in the recruitment process. It has made them realise evaluating the candidates can be simple, informative, thrilling, and not too time-consuming.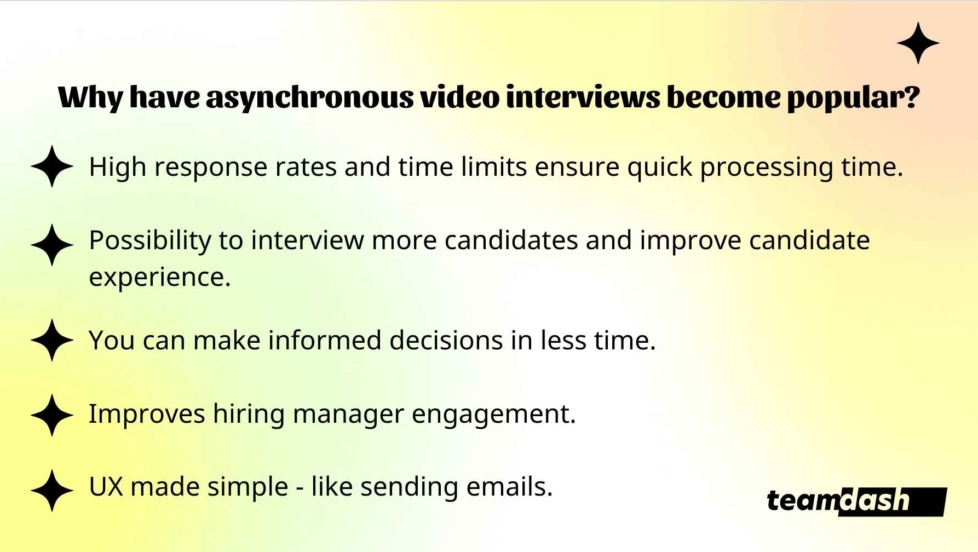 So how do the asynchronous video interviews save time exactly?
It comes down to three arguments: the recruiters' and their managers' lower time expenditure and a better candidate experience.
Recruiters are constantly searching for a good balance between an effective recruitment process and a good candidate experience. Asynchronous video interviews have become essential to companies' recruitment strategies because they demonstrate great potential to reach the desired balance.
1. You can make a more informed decision in less time.
It is nearly impossible to decide whether to proceed with a candidate or not based simply on their CV. For example, recruiting for assisting jobs where the number of candidates is high makes it remarkably difficult to choose the right candidates since they also possess the same skills.
Also, the positions where the applicant needs to be good at self-expression, public speaking, and languages are complicated to evaluate based solely on a CV.
Instead of conducting 25 phone interviews to collect extra information, the recruiter writes or records their questions just once. Those questions can then be sent to over 100 candidates at once.
The received answers can be checked whenever suitable for the recruiter or the recruiting manager. Whether to proceed with the candidate is being made in a more informed manner, which guarantees better recruitment precision.
2. High response rate and time limits assure the processing speed.
The asynchronous video interviews are used in the recruitment process where the candidate has been contacted enough times for them to be ready to make an effort. That guarantees a high response rate among the candidates.
According to Teamdash statistics, the average response rate is 90% for over 700 conducted asynchronous video interviews within a month-long period.
It is significantly higher than the average participation rate of a pre-selection interview. The recruitment software usually allows us to set a time limit and deadline for each answer. That means the questions and the answers' length are under the recruiter's control which helps to speed up the whole recruitment process.
3. Giving more candidates a chance makes the selection more precise.
Since conducting the asynchronous video interviews has been made simple, thanks to the recruitment software, more candidates can introduce themselves more thoroughly and complement their CVs. That improves the candidate experience and, through that, the employer brand.
It also saves time on the upcoming process stages. Without the asynchronous video interviews and evaluating the candidates based on only their CVs, we have the danger of omitting the suitable applicants from the process and continuing with the ones who left a good impression on their CVs but did not meet the requirements in real life.
Every recruiter has been on those interviews with a candidate whose case becomes obvious within a few minutes that they're not the person for the job. However, for a good reputation, one must get through the whole interview. That's where the unnecessary time expenditure is created for both the recruiter and the recruiting manager.
How to use asynchronous video interviews?
The most common way is to replace phone or group interviews with a video interview. However, in Teamdash, we've seen clients also use them to grow their talent pool and give test tasks.
1. Think through your questions.
The questions need to be thought through according to a specific project.
What is the goal of an asynchronous video interview?
Do we wish to evaluate language skills, public speaking, or something else?
Which type of information would help you choose the right candidates to proceed with?
We recommend you stick to two to three questions. Every additional question reduces the candidate response rate.
2. If possible, ask the questions in video format.
The recruiter can add extra information to the video interview invite, such as why they chose to use this format, who the candidate should contact for further inquiries, and when the employer feedback will be given.
Modern recruitment software allows the recruiter to send their questions in both writing and video. We recommend doing it in video format to encourage the applicants to respond and simultaneously leave a more personal impression of yourself as an employer.
3. Make sure to give feedback to candidates.
Giving more candidates a chance only improves the employer brand reputation if all the applicants who put in the extra effort get their well-deserved feedback.
This task has also been made simple by recruitment software. Within just a few clicks, one can send the feedback and check whether the email has reached them successfully.